The last update from Terry and Hamish before the season kicks off for everyone. We look forward to seeing how everyone does next weekend.

Giddy up!


MEN'S PREMS
| Amalgamated Builders Limited: Southern Premier League
Played Wanaka AFC at Ellis Park
WIN 4 - 2

Match day squad:
21. Brandon Sumpter, , 2. Jak Stevenson (c), 4. Luke William's, 5. Mitchell Gray, 7. Scott Casey-Wooldridge, 8. Sam Cosgrove, 10. Luke Clissold, 11. Justin Wiechens, 14. Nathan Wilkie, 18. Josh Lucas, Subs: 1. Tom Steven's, 3. Karma Gyeltshen, 15. Jaime Le Comte, 16. Zac Baird-Hodge.

The last couple of weeks have been very challenging for us as a group, we have started most of our games really well for the first 30-35 minutes, then for some reason we start doing our own things individually. So this week, as a group, it was decided the way we were going to play, the responsibility is with the squad now, so with today's game we were patchy just trying to find our feet with our new structure. We had a lot of moments in the game. We went 1 nil down to a penalty. The reason for the penalty was for kicking an opponent. Our Goal keeper Brandon Sumpter making his debut couldn't save it. So 1-0 down at half time, I talk to the boys about our shape and if any team is to score next it needs to be us.

The ref was looking at calling the game off at half time for safety reasons as there was thunder and lightning. The second half starts and we look a bit more solid. We get a free kick that Justin Wiechens tucks away really well. We start to play some good football then from an easy turn over, Wanaka go and score a good counter attacking goal at the far post. So 2-1 down with about 25 minutes left to play. We start to click as a group and our resilience and hard work pays off with Nathan Wilkie scoring a great equalizer. With about 10 minutes left we get a free kick that which Justin Wiechens again, tucks away, it is a very good free kick over the top of the wall a worthy winner if it was the winning goal. After scoring this the boys then start to play with a real vigor and all of a sudden have a real belief in each other, we then go and score an excellent 4th goal through Sam Cosgrove. Counter attacking play at it's best!

Today for me the ownership that the team had on our system was very evident with the result. Selecting a match day squad is getting harder each week, as it should be. Consistency from training to match day is now more important then ever earning your rewards for hard work and honest endeavour are the key words to this group. The team as a whole did well, players of mention Brandon Sumpter for his debut match in goal, and the front three.

Man of the match: Josh Lucas outstanding today and epitomized what our squad ethos is about 'play as you train'
Regards
Terry

MEN'S PREMS PLAYERS & SPONSORS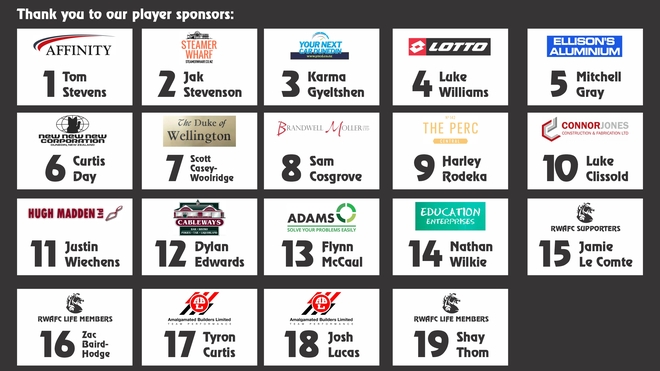 WOMEN'S PREMS
| Affinity Mortgage Advisors: Women's Premier League
Played University AFC B at The Turf
WIN 1 - 6

Roslyn Wakari Premier Women faced Uni B today at the Turf Won 6 - 1 (ht 4-1) Scorers- Emma, Jordyn, Renee x 2 and Holly x 2. We started the game off strong, pressing high and winning and maintaining ball for large patches. We were able to get two goals ahead early on before we had a bit of a lull for 10-15 minutes in which Uni B brught a goal back. Sam would pick up a yellow for a ball bouncing up into her hand. With half time near we picked up a gear and grabbed a couple, was ideal leading into the break. Half time chat based around working to our standards and not dropping them. Second half was an interesting affair. We would see Sam get a second yellow for another hand ball, sadly the referee seemed to only speak in cards and we were victim to it. Down to 10, our girls stepped up again and still played the better football. Young players being lead by the seniors made for a great mix. Holly would finish of the scoring following a strong game by her. Down to 9 players for last 10 min following an injury to Saffie. The performance to still play football when cards were stacked against us at time such as 9 players on field is a credit to the ladies. Bacon lead well today, ensuring everyone knew their roles. Holly put a massive effort in all round the field. Z Energy Player of the Day going to Jordyn, the commitment to turn up from out of town is one thing, to be able to naturally be a leader to young players and up hold a high standard is amazing. A good game for us to come out with 3 points. We wish Saffie best of luck with her trip up North to a NZ Camp for football. Next week GI, Giddy Up!!

WOMEN'S PREMS PLAYERS & SPONSORS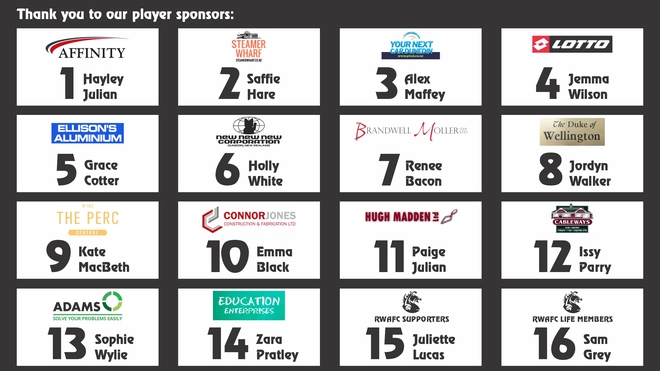 PREMS TEAM SPONSORS

MEN'S PREMS | Amalgamated Builders Limited
ABL is once again very pleased to be part of the Roslyn community. Team Performance is our company slogan and this fits well with how things work at Roslyn.
Keep us in mind for any of your commercial building needs anywhere in the South Island.
Richard Johnston
E: richard.johnston@abl.co.nz | W: www.abl.co.nz

WOMEN'S PREMS | Affinity Mortgage Advisors
Affinity Advisors are Mortgage, Insurance & Investment specialist. We are your one-stop-shop for your financial check-up and can assist you with all facets of financial advice. We help hundreds into their first homes, new homes and investment properties every year. We help protect your risks, and improve your financial wealth, guiding you every step of the way.
We are professionals with extensive experience in the finance industry. Our team will guide and support you throughout your financial journey. Our passion is to share knowledge, establish and enjoy long term relationships and improve your life financially.
Nick Van Der Heyde
- AFFINITY MORTGAGE ADVISORS
03 472 8790 | 027 202 1791 | 205 High Street, Dunedin
www.affinitymortgage.co.nz | nick@affinitymortgage.co.nz