Terry and Hamish update us again on how their teams performed on Saturday.


MEN'S PREMS
| Amalgamated Builders Limited: Southern Premier League
Played Mosgiel AFC at Memorial Park
DRAW 2 - 2

Match day squad:
1 Tom Steven's GK, 2 Jak Stevenson (c), 3 Karma Gyeltshen, 4 Luke Williams, 5 Mitchell Gray, 7 Scott Casey-Wooldridge, 8 Sam Cosgrove, 10 Luke Clissold, 11 Justin Wiechens, 13 Flynn McCaul, 14 Nathan Wilkie (vc), 15 Jaime le Comte, 18 Josh Lucas, 20 Michael Sweet, 21 Scott Glover GK.

We started off well enough, I asked the guys for a good start and to make sure that we made it hard for Mosgiel. We get a lot of set pieces which we don't convert straight away. But eventually we end up scoring two very good goals from set pieces. So 2 nil up with about 20 minutes of the first half left and instead of pressing on to totally finish the game off we go into cruise mode. We looked as though we had already won the game. We leak a goal just before half time giving Mosgiel some hope. The halftime team talk was very angrily given, asking for consistency and a bit more from players. A plan was set out but unfortunately we didn't execute it.

They have a penalty awarded for a foul in the box. Tom Steven's saves it and we are still in the game, unfortunately we go to sleep and don't close up the shape and they get a very direct easy equalizer which their striker finishes well. For me today we do well for patches of the game but it seems some players are just happy to be there and not work to our teams ethos of high standards and to work hard and earn your spot. We will go again this week with changes already in mind for a must win against a revitalized Wanaka team.

Players of note Michael 'Irish' Sweet quality all day, Jak Stevenson, Justin Wiechens.
Player of the day: Luke Williams, who proved today that hard work does pay off. He has had to watch listen and learn... his belief in himself was evident today!
I would also like to comment about how good the match officials were today. Excellent job.
Regards,
Terry.

MEN'S PREMS PLAYERS & SPONSORS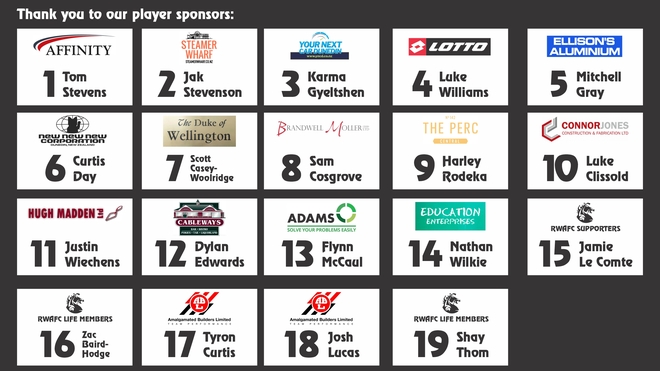 WOMEN'S PREMS
| Affinity Mortgage Advisors: Women's Premier League
Played Queenstown AFC at Ellis Park
DRAW 1 - 1

The Roslyn Wakari Premier Women team faced Queenstown today at Ellis Park. A major set back early on in the game saw Jemma fracture her wrist, she very much politely dealt with the clear pain wanting no fuss. We were able to hit the lead with great build up play that saw Kate slot it away first touch. Sadly, prior to the half saw us make a mistake that allowed Queenstown to shoot and score. The half time chat focused on movement and trying to do what we knew we were capable of. Sadly, the second half didn't see us score. We had great possession just not enough to get us over the line. A frustrating game, two points dropped. Zara got her first start for the team today. Renee offered great leadership in middle. Shout out to the amazing ball girls, good to see them on the game. Z Energy Player of the Day going to Kate, who sees herself in some great form lately, scoring goals, finding and creating space. Next week we aim to take the result further.
Giddy Up
Hamish

WOMEN'S PREMS PLAYERS & SPONSORS

PREMS TEAM SPONSORS

MEN'S PREMS | Amalgamated Builders Limited
ABL is once again very pleased to be part of the Roslyn community. Team Performance is our company slogan and this fits well with how things work at Roslyn.
Keep us in mind for any of your commercial building needs anywhere in the South Island.
Richard Johnston
E: richard.johnston@abl.co.nz | W: www.abl.co.nz
WOMEN'S PREMS | Affinity Mortgage Advisors
Affinity Advisors are Mortgage, Insurance & Investment specialist. We are your one-stop-shop for your financial check-up and can assist you with all facets of financial advice. We help hundreds into their first homes, new homes and investment properties every year. We help protect your risks, and improve your financial wealth, guiding you every step of the way.
We are professionals with extensive experience in the finance industry. Our team will guide and support you throughout your financial journey. Our passion is to share knowledge, establish and enjoy long term relationships and improve your life financially.
Nick Van Der Heyde
- AFFINITY MORTGAGE ADVISORS
03 472 8790 | 027 202 1791 | 205 High Street, Dunedin
www.affinitymortgage.co.nz | nick@affinitymortgage.co.nz