Welcome to a belated season start and a big thank you to the many people who kept the club going during lockdown and re-entry to some form of normality.

It was great to see everyone back at a packed clubroom on Saturday where we were able to acknowledge our newest life member Robbie Oram and applaud his efforts over many years.

Giddy up, we're back!
Wayne and Mark
Co-presidents
MEN'S PREMS
| Amalgamated Builders Limited: Southern Premier League
Played Dunedin Technical AFC at Tahuna
LOSS 2 - 0

Well it wasn't the exact way that we as a team had set out for our first game of the season to go. It started with us having to make two changes to our starting line up on game-day, but it also offered a chance for a debut for young Luke Williams as well as a starting spot for Shay Thom. There were also starting debuts for Yuni Sung Chang and Sam Cosgrove. Our Captain for the season is Harley Rodeka ably assisted by Jak Stevenson our Vice-Captain.

The game didn't go as we had trained, as our training had been a lot better than our gameplay! We went behind to a bit of miscommunication at the back which led to a bit of luck for the opposition player who, while we tried to clear the ball, got a lucky intercept on the attempted clearance which went into the open goal. The second goal was from a penalty after our GK Tom brought down their attacker, making the end result a 2 - 0 win to Tech.

Although I should be upset at the result we had a lot of positives from the game. We played some really composed football at times and if some of our shots had been on target we would have had a better result! As a team, we need to be better at going forward at pace and unlocking what we have seen at training to date. There have been a lot of changes this season and the word patience is a big requirement of our players and staff. We will get there I believe, as all the players are training really hard which is great to see.

Onwards and upwards for our first home game of the season against GI. Our MOTM was Jak Stevenson who with some other players acquitted themselves well.
Terry.

POD - Jak Stevenson
WOMEN'S PREMS
| Brandwell Moller: Women's Premier League
Played Queenstown AFC at Ellis Park
LOSS 1 - 4

Roslyn Wakari Premier Women faced a travelling Queenstown. First half saw us rather flat, sitting deep. Qtown were able to a lead going into half time, 1 - 0. Second half the girls were able to press much higher, having Qtown on the back foot for a long time. Sadly we were unable to find the net and a counter-attack put us 2 - 0 down, that was the turning of the game. 2 more quick goals and we were 4 - 0 down. The forever young Suz would find the back of the net via a header on a corner. 4 -1 final score. The girls I believe will be more annoyed following the game than anything, they will get back on the horse and be even stronger following this game. Well down Qtown on the win, they deserved it. Debuts went to both Paige and Hayley, and the Julian twins. Z Energy Player of the Day going to Grace, a class act in the backline. Next Week Uni A.
2ND'S
| Fluid Recruitment: Men's Division 1
Played Green Island AFC at Ellis Park
LOSS 1 - 6

3RD'S
| Back In Motion: Men's Division 2
Played Balclutha AFC at Ellis Park
WIN 4 - 1

The 3rds kicked off with a comprehensive 4-1 victory over a travelling Balclutha side. Goals from Conrad Sinclair (2), Laurie Jones, & Ben Williams. It was a Senior coaching debut for Rob Stewart along with several of his players who also made their senior debuts. With an average age of approximately 19, the 3rds had to overcome a physical Balclutha team. In the end, it was down to better finishing and counter-attacking that enabled them to come away with the win.

POD - Saed Omidwar
1888's
| Men's Division 3
Played Green Island AFC Sharks at Ellis Park
WIN 9 - 1

The 1888s started the season against a usually strong Green Island Sharks team and as we are normally slow starters this game or perhaps Uni was the worst one to start off with. We started well, however, and looked in control and went ahead through an absolute stunner from Matt Hodgson one of the best 30-yard strikes I've seen. We then lost a bit of control and were under quite a bit of pressure when they equalised. We retook the lead through Dave Midgley with another outside the box finish. And then just before half time we effectively knocked off the opposition confidence with another goal. Nice interlocking play with Mark Kleigl firing a great low cross and Damo with a great turn and finish going into half 3 - 1.

I was stoked with the first half and told the boys just to play football and not get into the niggle. It worked and the boys delivered with 6 more goals and it could have been more! Goal scorers for the game were Matt Hodgson, Dave Midgely, Damian Foster with 4, Steve Brown, Nick van der Heyde and Brett Chisholm. Player of the day went to a guy who kept his cool the whole game and was very effective in defence and attack, that's Scott Lippers, I think you've found your position! Special mention goes to GI stalwart Calum Hayde putting the boots back on this season, although Robbie Oram wants his size XS shorts back.
Cheers Phil

POD - Scott Lippers
MUSTANGS
| Switchbuild: Men's Division 4
Played Green Island AFC Tippers at Sunnyvale
DRAW 3 - 3

During these very strange times, it is good to get back to football and back to normality. The boys have not had much of a pre-season but made the best with what we had!

Today took us to Sunnyvale to play GI Tippers. With them in runners up spot last year we knew it was a team to beat. The Mustangs started in their typical style with a slow start and within 20 minutes we were 2-0 down. Few mistakes led to goals but it's going to happen nothing to dwell on. To the boy's credit they kept their heads and before we knew it we had a free kick on the edge of the box. Bailey stepped up, hit it low and hard and ping it was in! 2-1 down halftime.

Lads came into the team talk upbeat, we kept to the positives and went out fighting! 10 minutes in LVG smacked an unbelievable ball from CB to Liam who half-volleyed it into the net 2-2. The lads were fired up, we played lovely footy, 1,2s, triangle plays, all things training led to. I had a big smile on my face. Mike Whitehead found himself on a run 1v1 with the keeper and chipped him and it was the slowest roll into the back off the net! Unfortunately, we just couldn't hold on GI got themselves back into the play and in the dying minutes off the game had a great run had a shot which Adam saved but unfortunately the follow up just couldn't be avoided! Arguably offside but that's football! 3-3. Big shout out to Greg for reffing today.

POD - Logan Herbert
HOTSPURS
| Education Enterprises: Men's Division 4
Played Balclutha AFC Reserves at Ellis Park
WIN 4 - 2

The Hotspurs, or better known as the Brumbies, had their first game against Balclutha on the weekend. The team managed to play a high-intensity press which led to us being four goals up within twenty minutes. Goals to Luca Hines, Ben Mirams, Asher and Roberto O'Shannessey. As the game continued, it was noticeable that the players' fitness levels began to drop. This, as well as a lack of subs led to the team conceding two goals in the second half. Both teams created decent chances but the game ended 4-2, giving the Hotspurs their first win of the season. Man of the match went to Ben Mirams for his goal and outstanding work rate throughout the match.

POD - Ben Mirams
RESERVES
| Women's Division 1
Played Mosgiel AFC at Memorial
WIN 1 - 9

RWAFC Reserves made their big road trip of the season out to sunny Mosgiel to play their 2nds. Having seen the late withdraw of Jo Flamank from the Friday night Prem game we had a feeling she would front up and play on Saturday and we were correct!! With a mixed build-up to the game and losing a couple of players, we turned up with only twelve players. A low key buildup to kickoff and not putting any pressure on the players, the key was to enjoy it and for those unlucky not to be in the Prem side this week its a chance to express yourselves........and that they did. Everyone gave 110% for the entire game, the calming chatter of Zoe in the middle of the park with the younger girls around her is an absolute asset and I'm sure yesterdays result against her old side was more than pleasing, Isy P and Sophie with the voice of Zoe directing them controlled the middle of the park. The van Gorp twins at centre back were solid on defence. A couple of standouts for us were Amelia Newlands who absolutely cut them to shreds down the right-hand flank and our lightning-quick centre forward Kate Macbeth who was just far too quick and accurate for the defence picking up a double hat trick. Fulltime score 9-1. Young Grace picked up POD for her brace and received a free shandy at the clubrooms afterwards. Goalscorers were Kate 6, Grace 2 and Isy P 1. Great work by all involved.

POD - Grace Blackie
FILLLIES
| Hope & Sons: Women's Division 1
Played Northern AFC at Brockville
LOSS 2 - 3

RWAFC Hope and Sons Fillies had there first hit out playing Northern up at Brockville and I have to say, there were a tad unlucky. We were 2-0 down at the half but I thought we played the better football, with better possession and shots on goal. Early in the 2nd half, we went 3 down but we were still the more dominant team. 10 to go we were finally rewarded with a goal to Kendal, and 2 minutes later, another goal going to Rata, both ladies deserving of their goals. This got the sideline going and set up a thriller of a finish, but despite being camped in and around their goal box we just couldn't find the back of the net and eventually, we ran out of time, despite Hamish's excellent officiating with the whistle.

So we finished 3-2 down but with huge positives to take out of it, our structure and set up was good, our attitude was excellent and that showed with how strong we finished. POD went to Kendall for her great attitude during the week showing up to support when injured and chasing everything down and was rewarded with a goal.

POD - Kendall Walker
SHETLANDS
| Southern Wide Real Estate: Women's Division 2
Played Caversham AFC at Brockville
WIN 11 - 2
ORIGINALS
| Adams Plumbing & Electrical: Masters 35+
Played Northern AFC Relics at Forrester Park
WIN 2 - 4

Saturday saw a changing of the guard for the Originals with the manager/coach/star of our team moving on to bigger, and probably better things with the Fillies. Left to fend for ourselves it looked, on paper at least, like we were going to have a tough time. We had one brand new player, welcome Mark Lee, a couple of "I'll see how it goes" players and one who can't decide who he wants to play for. So while our excitement at being back on the field was high or confidence wasn't so much.

We made the long trek to Forrester Park to take on a perpetually strong Northern Relics side. We started confidently, however, went a goal down to a clinically taken Relics goal. That was about as good as it got for Northern though, as their direct attacks were easily dealt with by an Originals defence featuring a couple of new faces. We deserved an equaliser but there was a bit of luck involved when it finally came, as Richie's cross was deflected past a helpless Relics keeper.

Tied one apiece at the break, we had done a good job of frustrating the home side and that led to them making mistakes. A clumsy foul led to Marcus powering home an absolute thunderblast of a freekick, and minutes later another mistake saw Richie walk it into the net. After a pinball shootout in the Northern goalbox, they scored a fourth for us and while they pulled one back via an excellent freekick it was merely a consolation, a well deserved 4-2 win to open the Originals' season. Sammy was faultless in goals and everyone in front of him was superb but POD was Dave Casbolt - sensational at centre back and the only player on the pitch that remembered about taking advantage of the new goal-kick rules.

POD - Dave Casbolt
COLTS
| Downie Stewart Lawyers: Masters 45+
Played Grants Braes AFC at Ellis Park
WIN 1 - 0
TROJANS
| Connor Consulting: Masters 45+
Played Dunedin Technical AFC Lions at Culling Park
DRAW 2 - 2

The Trojans started their 2020 campaign off in heartening fashion with a come from behind 2-all draw V Tech Lions at Culling Park. We went 2 nil down early in the second half but a spirited comeback saw goals to David Hunter and new signing Jose Valdez with 5 to go and us unlucky not to pinch it at the death. Player of the day was our new midfield dynamo Joseph Mundava who had a stormer.

A number of new signings were on show and one of them debuted in probably the most unfortunate circumstances ever for Roslyn. John Rawlings scored a belter of a headed own goal past Pete Evans in the first half and then managed to get himself sent off in the second half. Unfortunately, in his quest to become the oldest ever scorer for Roslyn, elder statesman Graham Musgrave pulled a hammy and looks like being out for a while. Roll on the derby next week on the postage stamp.
JUNIOR SNAPS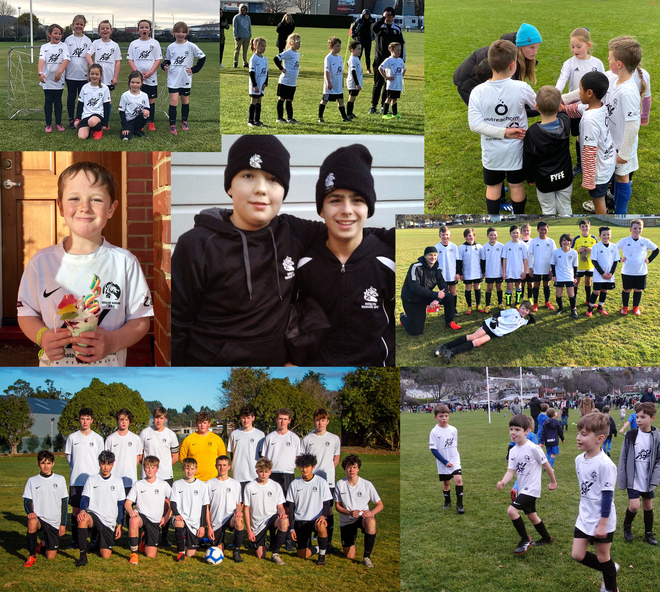 WHAT ELSE
THANK YOU NIGEL!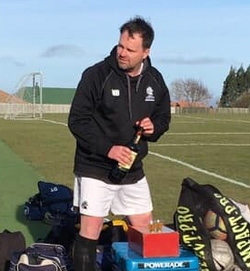 The committee would like to say a huge thank you to Nigel Benn for all of his fantastic volunteer efforts in successfully running the bar for the last few seasons.
Nigel has really upped the clubs game regarding the bar with the highlight being the new walk-in chiller.
100 CLUB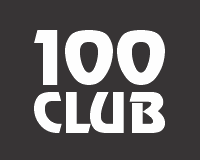 The club is looking to push on with the 100 Club this year. 100 x $100 tickets for a chance to
WIN THOUSANDS
.
The tickets need to be sold by the
end of July
with the first weekly draw on 1 August 2020 and the final draw Sunday 27 September 2020.
All enquiries to Merce - 027 281 5120.
CLUB MERCHANDISE

You can now get all your official RWAFC gear from our online shop and the club receives back a percentage of the profits.
CLICK HERE TO SHOP NOW
RWAFC LEGENDS EVENING
Kushla Glover will share with you her career in football at our first legends evening of the year on Friday 3 July from 7:30pm.

Come along and hear about one of Roslyn's legends of the game and I am sure some great stories.
2020 PLAYERS GUIDE
The club has developed a line of sight document that explains how the club works, who does what, who to ask about what and who all the people are in the key roles at the club.
CLICK HERE TO DOWNLOAD A COPY
2020 SUBS
2020 subs are due and we have passed on a reduction from Football South & NZ Football.
Senior Men and Women - $230.00
Tertiary Students - $205.00
Prems Men & Women - $155.00
Youth - $100.00
Social Membership - $40.00
Please pay to Roslyn Wakari AFC: 03 0883 0021078 000, use your Name and Team as a reference, please.
HISTORIC ITEMS WANTED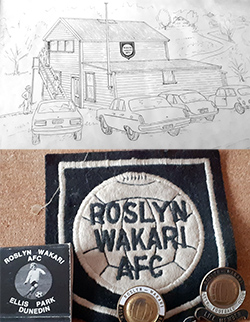 Club stalwart Norm McRobbie is looking for any and all items relating to the club's history and (Otago) scrapbooks, photos, badges, programmes etc.
Contact details for Norm:
nmcr57@hotmail.co.nz
| 03 4766572 (home)
SPONSORS
We wish to warmly thank all of our sponsors back this year and thank them for supporting us during the lockdown and going forward.
We still have 2 of our teams who are in need of a sponsor so as their company can have naming rights for these teams on the results board and in the Football South draws at $500.00+GST per year.
Contact Gary McConville if you're interested - 027 652 6204 or
DOWNLOAD OUR SPONSORS BOOKLET HERE