Saturday saw a range of results as we push towards the coveted Hanlin Shield.

Most teams played after a range of byes, defaults and deferrals on a fine winters day.

Giddy up!
Wayne & Mark

WRITE-UPS - 24 JULY
MEN'S PREMS
| Amalgamated Builders Limited: Southern Premier League
Played Northern AFC at Ellis Park
LOSS 0 - 1

Squad List: Tom Steven's, Jak Stevenson, Josh Lucas, Mitchell Gray, Luke William's, Luke Clissold, Harley Rodeka, Shay Thom, Sam Cosgrove, Nathan Wilkie, Jaime Le Comte. Subs: Brandon Sumpter, Flynn McCaul, Dylan, Jack McFarlane.

There are a lot of things as a coach that you can prepare for as per the following firstly training, sessions in training, team tactics, set pieces, team selection. The one thing that you cant plan for is a players desire, their application, mindset etc. I'm not going to blame the players at all, as I have said openly we are here to play in the South Island league not the next tier down. We have 4 games left, after today now 3 and that's our season, this Hub stuff isnt very clear at all either...the uncertainty around it is very confusing to say the least. For the players we know we are better we go again on Tuesday.

On the game, we had a minutes silence for 1 of our players who lost his grandfather last week our condolences go out to the Le Comte whanau.

Plain and simple Northern showed a bit more than we did today they played well enough and certainly deserved their result. Our players today it was the usual suspects doing the mahi again. Harley Rodeka keeps running this ship week in and week out. Luke Clissold was busy others tried, and Tom wasnt really tested, and played well. But man of the match for me was Luke William's..his resilience and perseverance has been top drawer good to see him back!
Regards
Terry

WOMEN'S PREMS
| Affinity Mortgage Advisors: Women's Premier League
Played Queenstown AFC at Ellis Park
DRAW 1 - 1

Another close encounter with Queenstown as it had been in earlier fixtures. Massive shout out to the Shetlands and Beth for helping us out this week. Good first half seen us creating many chances in front of goal. Kate would score our goal, getting put through and ensuring she did enough to put round the gk. Half time chat was positive and mainly around trying to minimize mistakes. Second see a lot of great play. Alex was working extremely hard as full back causing some great forward play. Our back line was great support playing around the back. Sadly Queenstown were able grab a goal, some very determined players in their fold. Kush would make a return to the Premier Team, a legend of football and was amazing to see her in action again. Kelly Latimer would also take the field for us, debuting up top, 17 years since last playing Premier League for Northern. Final score was 1 all. Both teams had chances at goals, draw a fair result. Beth was great in goal again as well. Renee and Kate always a danger when going forward. Z Energy Player of the Day going to Isy, stepped up to play CB and then into her natural role in midfield. Well done to all the girls today. Giddy Up!!

WOMEN'S PREMS
| Affinity Mortgage Advisors: Women's Premier League
Played Dunedin Technical AFC at The Turf
DRAW 2 - 2

In midweek action we set off to the Turf to face League Champions Tech. Prior to the game we talked about all working hard for each other and giving it our all. Beth would wear the gloves again to start for us. Start of the game we were finding our feet, seeing how we wanted to play. As the half was growing so were we and it was looking good. We would find ourselves a goal down, thankfully the heads didn't drop. Sadly Beth would take a head knock and be subbed, Isy without hesitation stepped up and went in goal. By half time we had found our feet and were not only working hard but playing some great footy. Half time chat about keeping it going and credit for the hard work already put in. We came out well, playing footy right away. Tech would double their lead with a goal off a corner. The girls kept it going, believing on themselves and the players around them. Kate would get our first goal, following up with great pace and slotting away a gk thumple. Momentum was on our side, we had more of the ball, attacks happening more often. We had hit the bar during this half as well, another goal was still in this. Free kick awarded with couple minutes left, up steps Juliette. Nothing but net, and the girls celebrated the incredible kick. Both teams till end kept giving it everything till the final whistle. 2 all final score, when you celebrate a draw, it's a credit to your opponents as well, Tech are the number one side, undefeated in years and these are first points taken off them in league all season. Very proud of all the players today, Renee lead as captain and ensured our press was always on. The back line had their best game of season working so well together. Midfield seen themselves involved in every play while our wings were always looking dangerous. Z Energy Player of the Day going to Isy, she embodies the amazing attitude of these ladies, doing what ever needs done for the team while also being an amazing gk!! Giddy Up

2ND'S
| Fluid Recruitment: Men's Division 1
Played Mosgiel AFC at Brockville
WIN 3 - 2

3RD'S
| Back In Motion: Men's Division 2
Played Dunedin Technical AFC at Ellis Park
LOSS 1 - 2

BLACK'S
| Hugh Madden Ltd: Men's Division 2
Played Mosgiel AFC at The Oval
WIN 4 - 1

This week saw the Blacks play a large squad from Mosgiel, the game was close in the first 25 minutes with neither team able to open the scoring. An attacking corner saw our two center defenders' team up, with Donkey showing his class by deftly turning and curling the ball neatly into the corner. Damo grabbed a second one shortly after. Despite Adams heroics, having been hit by a mystery sniper and pulling off an audacious scorpion save, we went into the break 2-1 up. With three first half injuries the boys had to dig in deep as Mosgiel started the 4 on 4 off sub tactics. However, some classy game play and text book Una training dills came to fruition and we managed to secure a 4-1 win over rivals that can play footy when they show up to games.

Good lucky to the 3rd Whites this week as they come up against table toppers Uni 5ths

POD - Donkey (Oscar Black)

BRUMBIES
| Aotea Electric Ltd: Men's Division 3
Played Northern AFC Rovers at Forrester Park
WIN 0 - 3

This time around, the brumbies went up against the Northern AFC dribblers. Coming off the back of 2 straight losses, the boys were raring to go and get a much needed win. In our new normal 3-5-2 formation, we started off a bit sloppy but quickly got into the swing of things and controlled the game extremely well, creating plenty of chances. Well into the first half, the brumbies first goal came from a Jack Mullins header off the back of a brilliant ball from his centre back partner, Michael Sheed. This goal was a massive wake up call for Northern as they began to create a few chances of their own which we managed to defend well against, this was the story for the rest of the half and most of the 2nd half. The nail in the coffin came from a Chris Tremlett free kick which was hit into the wall and deflected into the northern goal. This shook the northern side as they began to drop off and we dominated the rest of the game, including a third goal by George Miller.

Overall a comfortable win for us and a huge boost for our chase of the #3 spot on the table. We look forward to our next bout against a tough Dunedin Tech side, with 3 points in mind.

MUSTANGS
| Switchbuild: Men's Division 4
Played Grants Braes AFC at Brockville
LOSS 0 - 4

Up at Brockville we hosted a very decent Grants Braes team! It was a 2nd v 3rd clash so it was a big game! Unfortunately for the mustangs it didn't go to plan. Grants Brae were the better team straight from kick off, our keeper Jimmy pulled of some amazing saves to keep us in it but unfortunately wasn't enough they were 2-0 up by the half. 2nd half we got more into the game and phases the better team but we wernt really testing their keeper much. Best chance came from Bailey blasting a low cross across the goal mouth for young Mitch to blaze it over the bar at 6 yards! Unlucky as it came at him with pace. The game ended 4-0 loss but mustangs had spirit and we knew we got beaten by the better team. As usual we just enjoyed the beautiful game and had a team bonding beer afterwards with a smile on our face. Move on and do our best for the rest of the season.

POD - Jimmy Simpson

BLACK (FORMERLY RESERVES)
| David Browne Contracting Ltd: Women's Division 1
Played Dunedin Technical AFC at Brockville
WIN 3 - 2

This weekend the David Browne Contracting RWAFC Black team took on the third place team, Dunedin Tech Reserves at Brockville. The sun was shining for the game and despite having a few of the team unavailable, we still were able to field a competitive team with a couple of ring ins as subs if needed. Such is the depth of talent amongst us.

We started off well to find ourselves 1-0 down against the run of play. However, in the style of determination that epitomises our team we soon pulled it back before going ahead again 2-1. The opposition pulled level before we were able to have the last word, scoring the final and winning goal.
The final score 3-2.

With every game I see the players grow in confidence and prepared to try new things and showing us the individual flare that they bring to the team. We are getting to the ball first now more than before, now we just have to have the same commitment when defending corners.
Next week is a Roslyn Derby when we meet the Shetlands.

Player of the Day - Paige Julian

SHETLANDS
| Property Brokers: Women's Division 1
BYE

WHITE (FORMERLY FILLLIES)
| Hope & Sons: Women's Division 1
Played Otago University AFC Yellow at Bayfield Park
LOSS 3 - 1

RWAFC Hope & Sons White played Uni at Bayfield Park. Thanks to the Uni coach for reciprocating the refereeing from the last match and holding court for the whole 90mins. To be fair, their were only two big decisions to make, the first one, 43rd minute Brie chasing down a ball was absolutely whopped by the Uni keeper. No cards but they swapped gk for the second half. I suppose in the spirit of 2nd div football it's good to have 11 on the pitch, but it was not a nice challenge and Brie was kept to only playing 45mins for us. The second call went our way, a slightly late challenge, advantage played and called back. Tyla stepped up for the FK from 25 yards and beat the keeper for her 3rd of the season. Other than that the match was evenly balanced for the first 20mins, before an OG from a corner put us down 1 nil. 2 more goals from quick breaks and we went in 3 nil down at half time. The supporters included CLUB LEGEND JIMMY, after her big night at the club, and she lived up to the reputation, heading off at half time to get her boots! We finished the match 4 - 1 down, the second half under the kosh but some really tidy defending and a solid effort from our midfield frustrated Uni. Big thanks to Belinda, Brie, Ali whose 90 minute effort at CM was immensely helpful and we all owe her a pint, and Jimmy for filling in today. Our POTD goes to Meaghan, who is always composed at CB and keeps a positive attitude to her football.

ORIGINALS
| Adams Plumbing & Electrical: Masters 35+
Played South Dunedin 35s at Brockville
LOSS 1 - 5

COLTS
| Downie Stewart Lawyers: Masters 45+
Played Northern AFC at Ellis Park
WIN 7 - 0

TROJANS
| Connor Consulting: Masters 45+
Played Mosgiel AFC at Ellis Park
LOSS 1 - 4

The Trojans carried on their consistent form this season with a hard fought 4 1 loss to the Mosgiel lads. A game day 14 saw us start with encouragement but injuries got us as our talisman Chris Connor in goal who hobbled off shortly after half time with a haematoma in the leg protruding as big as a soft ball and a trip to A&E from the first lady. At 1 nil down we gained a penalty which our french import Pierre slotted from the goalies save to bring it level at half time. Lum stepped up ably in goal and pulled off some acrobatic saves but the second half saw the usual theme of the opposition slotting a few past us. We aim for our big game V Northern with a win to us consigning them to the wooden spoon so it's all or nothing at Forrester next week.
POD was the ever dependable and effervescent Brian Cox.

DRAW for 31 July
Men's Prems:
BYE
Women's Prems:
12.30pm vs Otago University AFC at The Turf
2nds:
12.30pm vs Grants Braes AFC at Ellis Park
3rds:
12.30pm vs Otago University AFC 5ths at The Turf
Blacks:
12.30pm vs Green Island AFC at Sunnyvale
Brumbies:
2.45pm vs Dunedin Technical AFC at Brockville
Mustangs:
12.30pm vs Al-Huda FC at Logan Park
Women's Black: DERBY!!!
12.30pm vs
RWAFC Shetlands at Ellis Park
Shetlands: DERBY!!!
12.30pm vs
RWAFC Black at Ellis Park
Women's White:
12.30pm vs Dunedin Technical - Caversham at Brockville
Originals:
2.45pm vs Northern AFC at Ellis Park
Colts:
BYE
Trojans:
2.45pm vs Northern AFC at Forrester Park
Please note the draw is subject to change.
You can find the official draws here:
PREMIERSHIP - SENIORS - JUNIOR/YOUTH
UPCOMING EVENTS AND NEWS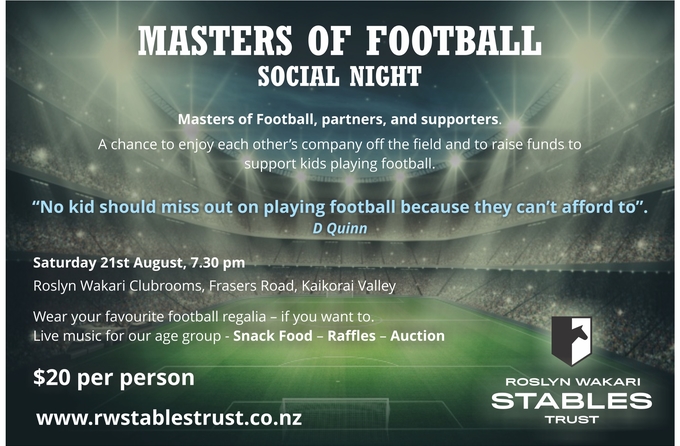 LEGENDS EVENING - Bridgette Russell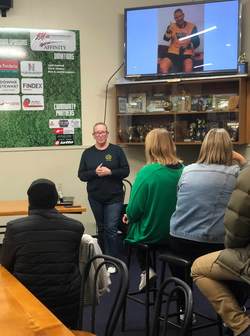 A large crowd was regaled by club legend Bridgette Russell, aka Jimmy, last Friday night where she took us through her career highlights on and off the field.
Thanks to all those who attended our 6th such event over the last 3 years and a big thanks to Jimmy!
Please let us know who you think should be next in line to be honoured for next year and beyond -
info@roslynwakari.co.nz
100 CLUB WINNERS - 24 July
| | |
| --- | --- |
| Prize | Ticket |
| $100.00 | 35: Wogga |
| $50.00 | 67: Sue Verwey |
| $50.00 | 54: Rab Smith |
| $25.00 | 64: Hugh Madden |
| $25.00 | 79: Hugh Madden |
| $25.00 | 71: Rob Oram |
| $25.00 | 47: Pete Hill |
| | |
UPCOMING EVENTS
Sat 21 August - Masters of Football Social Night
Fri 3 Sept - Quiz Night
Sun 5 Sept - 100 Club Draw
Sat 18 Sept - Prizegiving, 5pm
23-25 October - U19 Men's and Women's Coastal Spirit Tournament
SPONSORS HIGHLIGHT
Affinity Advisors are Mortgage, Insurance & Investment specialists
. We are your one-stop-shop for your financial check-up and can assist you with all facets of financial advice. We help hundreds into their first homes, new homes and investment properties every year. We help protect your risks, and improve your financial wealth, guiding you every step of the way.
We are professionals with extensive experience in the finance industry. Our team will guide and support you throughout your financial journey. Our passion is to share knowledge, establish and enjoy long term relationships and improve your life financially.
Nick Van Der Heyde
- AFFINITY MORTGAGE ADVISORS
03 472 8790 | 027 202 1791 | 205 High Street, Dunedin
www.affinitymortgage.co.nz | nick@affinitymortgage.co.nz