WRITE-UPS - 31 JULY

MEN'S PREMS
| Amalgamated Builders Limited: Southern Premier League
BYE


WOMEN'S PREMS
| Affinity Mortgage Advisors: Women's Premier League
Played Otago University AFC B at The Turf
WIN 1 - 3

Following what would of been our best team performance midweek sadly didn't carry that great football on to start the game. Isy would start in goal for us, sadly conceded a goal via a Uni B break away. Was a case of no flare in the first half being a bit slow out of the gate. Second half a different story, following some lollies and a chat we flew out the gate. Renee would score in our first attack of half in 46th min placing it well and would also look dangerous as half grew. 48th min seen us have a corner in which Holly sneek round the back and volley into the roof of net. Couple quick goals was ideal and cherry on top 10 min later Kate with another follow up seen us take it to 3-1. Some much better football this half flow of game was well in our favor. Great come back from girls that worked hard. Jordyn would go in goal 2nd half, kept a clean sheet! Morgan T would make a rare appearance for us and super thankful she was able to help. Juliette won the physical battle in middle of park. Very happy with how we picked ourselves back up to ensure the win. Z Energy Player of the Day going to Grace, she is a great leader in back line, protecting the number of GKs with have. Next week our last game of season vs GI, Giddy Up!!


2ND'S
| Fluid Recruitment: Men's Division 1
Played Grants Braes at Ellis Park
WIN 1 - 0

The Fletcher Cup team took on a tough and determined Grants Braes team at Ellis Park. A number of players have been unwell this week so it was a tough challenge to perform to our best on the day. The first half was all about withstanding the Grants Braes physicality and intimidating style. We slowly grew into the game and Zac had two great chances to put us ahead of the game but their keeper was in top form. We were reasonably comfortable at the back and beginning to take control. The second half performance was a big improvement and we dominated possession and the chances. We took the lead when Curtis volleyed in to the top corner from 25m. Further chances went begging as the team held out for an excellent win. Luke and Joe were excellent in central defence and kept Grants Braes out. Player of the day was Blake at right back for a solid and strong performance.


3RD'S
| Back In Motion: Men's Division 2
Played Otago University AFC 5ths at The Turf
LOSS 1 - 0

A very tight affair for the thirds this week, going down 1-0 to Uni 5ths on the Turf. A much improved performance from last week but we struggled to get anything going on attack. A dour first half saw both teams go into halftime 0-0. Uni had dominated possession and territory but were restricted to long shots and any that did get on target were expertly eaten up by Scott Glover in goal.

An improved performance in the second half by us was unfortunately let down by an error in 85th minute. A missed tackle and a slow cover defence letting in a Uni player one on one with the goal keeper to smash it in from close range. We'll go again next week vs Uni Cobras at Ellis Park looking to secure the result and continue to fight and finish as high as we can up the table.

Man of the match - Scott Glover some great saves and an assured confident performance in goal.


BLACK'S
| Hugh Madden Ltd: Men's Division 2
Played Green Island AFC at Sunnyvale
WIN 2 - 3

The Blacks travelled out to Sunnyvale for a crunch game against a Green Island team who had ambitions of winning the league who've only lost once in the past 7 games. The match started off at a frantic pace with both teams creating chances and as the half wore on with the tackles flying in and passion echoed around the vale we were dominant in possession and didn't take our chances. With Green Island on the ropes they achieved what their tactics were all day, hitting the long ball up the park and hoping for the best, unfortunately they got lucky and managed to round the scorpion king. 1- 0 down at the half we made 3 changes for the second half with the message to the boys to keep doing what we'd been doing. With a minute gone in the half we were level, a great assist from the hard working Damo for Sam to tap in at the back post. We were well on top, bossing the game with some of the best football we have played all year and we took the lead 13 minutes later with a well deserved goal from our talisman Damo with a great assist from Tom. We dominated possession, playing with no fear. Then the sucker punch arrived on 80 minutes with Green Island getting up our end of the field and scoring a cracker goal from outside the box that left Adam with no chance. Tt
would of been a travesty if we didn't take all 3 points in this hard fought match and the boys didn't give up and continued to dominate, finally we got what we deserved with Damo assisting Tom for the winner on 86 minutes. This was a well deserved win played hard and fair, bring on Cavvy next
week, live from Brockville Park 12.30 kick off, also on Sky Sports 1 delayed kick off 1pm coverage starts thanks Buz.

POD - Dom Madden (Future RW President)


BRUMBIES
| Aotea Electric Ltd: Men's Division 3
Played Dunedin Technical AFC at Brockville
WIN 4 - 2

It was a 2:45 kickoff at Brockville park for the Brumbies. We started the game in our effective 3-5-2 formation and resulted in a strong start off, with good early build up and pressure. This lead to Dunedin Tech conceding a goal from a corner kick. This was then closely followed by another well constructed goal in the first 15 minutes of play creating a very strong start to build upon for the Brumbies. The rest of the first half the Brumbies were dominating in possession and chances, however we could not finish our chances. A big second half was required from Dunedin Tech, while the Brumbies continued to play good football. This created the opportunity for the Brumbies to slot another two past them and lead the scoring 4-0. Dunedin Tech however, did not stop trying and managed to score 2 quick goals in the last 15 minutes of play. Resulting in the Brumbies to refocus and ensure we got the important win. Overall finishing the game with a 4-2 win for the Brumbies and is a critical 3 points to stay in the top 4 contention.



MUSTANGS
| Switchbuild: Men's Division 4
Played Al Huda FC at Logan Park
LOSS 3 - 2

Al Huda hosted the Mustangs over at Logan park on another lovely day. But the pitch….. well lets just say the Colts/Trojans would of enjoyed it. (Very small pitch).

With the nature of the pitch as it was the Mustangs struggled. Just like we did on Ellis 4 in preseason. Really doesn't suit our style of play. The game was very congested making play very difficult, We got chances in the box but then about 6 men were in the way! Al Huda had a break through to go 1-0 up which rattled our boys because about 3/4 minutes later they scored a 2nd. Mustangs needed to dig deep so from halfway James takes a punt and just before the crossbar it dipped, beating the keeper. Wasn't quite the Beckham v Seaman but still a (halfway shot). 2-1 down halftime we knew we had a sniff but they burst straight into a 3-1 lead. Big hill to climb and seemed to be in a dark place. That was until the ball spilled out of their box and Lori smacks a volley to smash into the bottom right! Mustangs doing what we do best, chased as hard as we could to equalise but time just run out. Gutting game and a very frustrating one as I/we believe we were the stronger and better team, difference was they made the most of their chances.

We move on to Northern next week in hunt of 3 points and to pick ourselves up!

POD Anthony Edwards (EDDY)


BLACK (FORMERLY RESERVES)
| David Browne Contracting Ltd: Women's Division 1
DERBY!!! Played RW Shetlands at Ellis Park
WIN 3 - 2

Saturday saw David Browne Contracting RWAFC Black take on the might and experience of the Roslyn Shetland team.

Despite their team being named after stumpy, hairy, egotistical, stinky beast of burden, it turns out they have hearts of thoroughbreds and it showed. To have our young players coming up against footballers of such caliber is a rare treat in our division. I think the Shetlands were most proud of the fact they scored all 5 goals of the match … and yet we still came away with a 3-2 win!

We've always said that all goals we score are team goals and these three 'own-goals' were no exception. They came about as we built attacks which culminated with the ball delivered into the danger area in front of goal, and with increased pressure from our players, the ball went in the net. We used their players like a pinball machine!!

That game completed the first round of the competition and this young team has worked hard to remain unbeaten and at the top of the standings. Now the real test begins to continue to play good football against the top teams in the division, week after week, and we can't wait for the challenge.

Player of the Day our Captain, Amelia Newlands.


SHETLANDS
| Property Brokers: Women's Division 1
DERBY!!! Played RW Black at Ellis Park
LOSS 2 - 3


WHITE (FORMERLY FILLLIES)
| Hope & Sons: Women's Division 1
Played Dunedin Technical - Caversham at Brockville
WIN 1 - 0

RWAFC Hope & Sons White played Cavy-Tech in the Highlands today. Massive thanks to Sheena for refereeing, it's not easy picking up the whistle, but both teams kept the game honest and any big decisions were dealt with fairly. We had a couple of 11th hour withdrawals through illness, but fielded a dedicated XI for the match. A very even game, CTs pace up front was always a threat but the back four of Ella, Saoirse, Meaghan and wee Yui dealt with it well and covered each other, which made the keepers job easier. Vicci, Georgina and Helena were getting stuck in up the pitch but the ball wouldn't quite fall for a shot for anyone.

We conceded a handball penalty towards the end of the first half, thankfully it was my lucky day as the shot was struck in the air to the right and easily caught. No dive necessary! 0-0 at the break and all to play for. The second half we had the better of both possession and territory but CT were always a threat on the counter and had one excellent effort off a corner tipped over the bar and a few quick breaks cleared by the backline and keeper. Relief for Roslyn, and we made the most of it. Some sweet linkup play from Victoria and Tyla, saw Tyla cracking a shot into the back of the net. 1 - 0 up, and 10mins to play.

A terrific effort from the players to scramble everything away as CT pushed for a goal. We held on for our first clean sheet and second win of the season. We've managed to sneak out of last spot and are hoping for a few more evenly balanced matches to see out the season. POTD was a tough one, Yui looked at ease at right back, Tyla put in a big shift up front, and Mamia was everywhere across the midfield. But I'm gonna be cheeky and give POTD to myself, stoked with keeping a clean sheet for the team today and I'm sure you all won't mind me having the celebratory pint 😄 Giddy up, Una.


ORIGINALS
| Adams Plumbing & Electrical: Masters 35+
Played Northern AFC at Ellis Park
LOSS 0 - 1
POD - Alan Mac Giolla Riabhaigh


COLTS
| Downie Stewart Lawyers: Masters 45+
BYE


TROJANS
| Connor Consulting: Masters 45+
Played Northern AFC at Forrester Park
WIN 0 - 3

The Trojans passed the wooden spoon onto the Northern lads with a hard fought 3 nil win up at Forrester Park. With Mr Wayne a planned late arrival Dave "Speedy" Hunter was put in charge of warm ups and structure with the instructions of being 2 nil up by my arrival, with which they duly did, as I was getting changed.
With numbers light all season and 7 goalies used already Merce was drafted between the sticks and Scotty Mason & Matt Blakely from the Colts who had the timely bye this week so we had a comfortable 15 lads this week.
Lum stroked one in from a corner early in the first stanza and Dave Hunter linked onto a flowing movement to make it 2 by half time. The second half saw even and good play from both sides and Dave Hunter converted a settler with 15 to go to give us the points and break our duck for the season.
POD was Dave Hunter with his 2 goals as we look forward to our bye next Saturday.


DRAW for 7 Aug
Men's Prems:
2.45pm vs Mosgiel AFC at Memorial Park
Women's Prems:
12.30pm vs Green Island AFC at Ellis Park
2nds:
12.30pm vs Otago University AFC at The Turf
3rds:
12.30pm vs Otago University AFC Cobras at Ellis Park
Blacks:
12.30pm vs Caversham AFC at Brockville
Brumbies:
Wed 4 Aug 7.30pm vs Northern AFC at The Turf
Brumbies:
2.45pm vs Green Island AFC at Sunnyvale
Mustangs:
12.30pm vs Northern AFC at Brockville
Women's Black:
TBC
Shetlands:
TBC
Women's White:
TBC
Originals:
2.45pm vs Mornington AFC at Mornington Park
Colts: 2.45pm vs
Green Island AFC at Ellis Park
Trojans:
BYE
Please note the draw is subject to change.
You can find the official draws here:
PREMIERSHIP - SENIORS - JUNIOR/YOUTH

UPCOMING EVENTS AND NEWS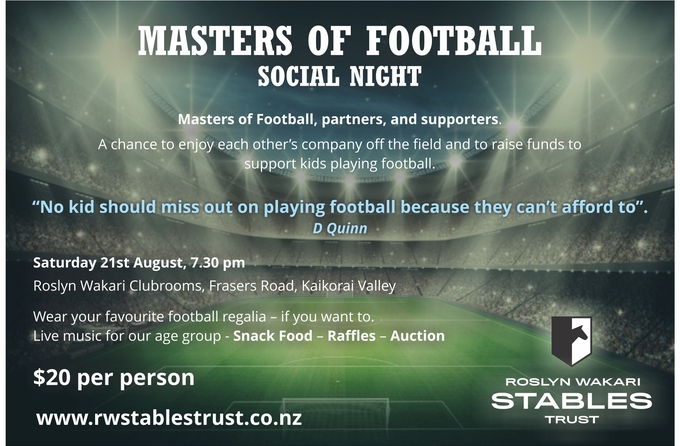 100 CLUB WINNERS - 31 July
| | |
| --- | --- |
| Prize | Ticket |
| $100.00 | 94 - Lyall + Amanda |
| $50.00 | 81 - Todd + Carolyn |
| $50.00 | 24 - Hugh Madden |
| $25.00 | 80 - Tom Stevens |
| $25.00 | 96 - Al (Una) |
| $25.00 | 21 - Wayne Facer |
| $25.00 | 78 - Team ACC |
| | |

UPCOMING EVENTS
Sat 21 August - Masters of Football Social Night
Fri 3 Sept - Quiz Night
Sun 5 Sept - 100 Club Draw
Sat 18 Sept - Prizegiving, 5pm
23-25 October - U19 Men's and Women's Coastal Spirit Tournament

SPONSOR HIGHLIGHT

As proud supporters of RWAFC at both the junior and senior levels, Richard and Alix are the team behind OutreachCRM.
OutreachCRM provides simple online contact management software solutions for small business, keeping track of your contacts, clients, customers, members, donors, jobs, orders - whatever contact information you need to manage.
If this sounds like something your business or organisation needs then give Richard a call - 021 276 4960 or
click here to visit the website
.