Welcome to another week at Roslyn Wakari as we get to the business end of the season and many teams vying for honours and crucial Hanlin shield points.

Coastal Spirit Under 19 Tournament
With our clubs commitment to developing youth players we will once again be sending an under 19 Men's and Women's team to the Coastal Spirit tournament in Christchurch. Hamish & Jordyn will be taking the girls and Terry is working through his coaching team as we speak. You will shortly see them fundraising around the club towards the event.
More details to come.

Giddy up!
Wayne

WRITE-UPS - 7 AUGUST
MEN'S PREMS
| Amalgamated Builders Limited: Southern Premier League
Played Mosgiel AFC at Memorial Park
LOSS 3 - 1

Squad: 21 Brandon Sumpter, 4 Luke William's, 5 Mitchell Gray, 7 Jack McFarlane, 8 Sam Cosgrove, 9 Harley Rodeka, 10 Luke Clissold, 11 Justin Wiechens, 14 Nathan Wilkie, 16 Zac Baird-Hodge, 18 Josh Lucas, Subs: 1 Tom Stevens, 6 Tom Bealin, 13 Flynn McCaul, 19 Shay Thom

This game, to be honest, was a disaster from the start. Jak Stevenson had to have a fitness test before kick off, that was the first issue, I had to leave him out as his knee wasnt 100%. Shay Thom was brought in to replace him only for him to also not start as he was still suffering from an illness, so in comes Justin Wiechens as a left back. Also on the bench was Tom Bealin, unbeknown until I told him, and Flynn McCaul and Tom Steven's who both featured for the seconds, both playing a full game.

Mosgiel scored after 1 and a half minutes from the kick off with a good interplay between the midfielders, good combination played and us not pressing quick enough to close them down. Not the start we wanted, soon after Mosgiel scored with another well taken goal with some more good interplay with the same player scoring from the edge of the box, not closing down quick enough, with some ball watching. Mosgiel had 3 before half time with another easy goal given up, the tail wind was to be honest a 3-4 goal wind which tactically if we got it right we could get 3 goals ourselves. So half time 3-0 down and another hill to climb.

I tell the guys we need to squeeze quicker and use the wind as they did but to better effect. We come out in the second half firing and score ourselves after 1 minute through a well taken goal through Sam Cosgrove, young Luke Williams wins an interception and drives forward and plays a very good through ball to Luke Clissold who in turns plays another great ball to Sam who finishes off well. Now we start to play and try to get back into the game, which unfortunately doesnt go our way, we definitely get some very good chances to equalize but we don't, through us hitting the woodwork or missing the target near the end.
With todays result I'm very happy with all my players especially with the way they held themselves after our injuries and illness within the group prior to kick off. Even better for me is the ages of the team today...
Brandon 18, Luke W 18, Jack 18, Zac 18, Sam 18, Mitch 19, Josh 21, Luke C 21, Shay 21, Justin 22, Flynn 19. And older players in Tom S, Tom B, Nathan and Harley.
It is a young squad, and I understand that we have had good support this season but I believe this squad can only get better with this season under their belt.

For me, all players did their utmost, but the younger guys are getting better and are more confident: Jack McFarlane, Luke William's, Zac Baird-Hodge, Brandon Sumpter, Mitchell Gray, Josh Lucas, Luke Clissold. Harley Rodeka led as he does which is just an expectation now, Justin Wiechens and Nathan Wilkie tried hard. Man of the match was Sam Cosgrove, excellent work rate and attitude.
We look forward to our last home game of the season next Saturday against Wanaka.
Catch you at Ellis Park
Giddy up, Terry.

WOMEN'S PREMS
| Affinity Mortgage Advisors: Women's Premier League
Played Green Island AFC at Ellis Park
WIN 1 - 0

Today's game seen our 9th GK. Emma would put the gloves on in her return match from injury. Starting strong we were able to create several chances, cut backs, dynamic runs forward and all-round good play. Back line was top notch again today and supported well in all areas. Midfield had a battle in their hands, physically demanding was GI as they tried to bully us around. Our team focused on playing footy. Half time seen half the team flee to get thermals as the hail came in while other half shared a blanket. During the second half, we gained all the control, chances were coming, Tessa for GI pulling off saves while the goal posts and bar kept us out. Finally Juliette would slot away our only goal of the match from outside the box, good clean finish. We kept creating chances with great forward play, Renee and Jemma extremely unlucky to not get on score card. Late subs in form of Jordyn and Beth to help us see game out and that they did. Extremely proud of how hard these ladies worked today, focusing on playing football and always supporting each other. Cheers to all the supporters, ball girls and Rab who all braved the cold to see the match. Great win to end the season that sees the team finish 3rd. Z Energy Player of the Day going to Holly, one of the many great leaders in team! Giddy Up . . .
2ND'S
| Fluid Recruitment: Men's Division 1
Played Otago University AFC at The Turf
LOSS 1 - 0

3RD'S
| Back In Motion: Men's Division 2
Played Otago University AFC Cobras at Ellis Park
WIN 2 - 1

A strong second half performance was enough to secure the result for the Back in Motion 3rds this weekend vs Uni Cobras at Ellis Park.

Uni started the better of the two teams as they dominated territory and possession in the early stages. We eventually started to make our way back into the game by creating opportunities from our counter attack. Unfortunately a defence lapse and a well taken goal saw us fall behind in the middle of the first half when a Uni player scored from about 30 metres out giving them the 1-0 lead. I encouraged our boys to hit back ASAP and it wasn't long before another counter attack threatened the Uni goal. We continued to make chances before a nice bit of interplay saw Jake Gilchrist through on goal behind the defensive line to level the score at 1-1.

The pace of the first half had obviously worn on several Uni players as they started to look tired at the end of the half. I encouraged the lads to keep going, keep playing, and the result will come in the second half.

It was another counter attack that saw Jake Gilchrist score his second which was enough for the 2-1 win. Uni offered very little in the second half as our defence block restricted them to mostly playing around the back and then attempting to hit it over the top which wasn't a problem for our defence or keeper to handle.

Man of the match - Jake Gilchrist, an attacking threat all day and never stopped running.
BLACK'S
| Hugh Madden Ltd: Men's Division 2
Played Caversham AFC at Brockville
WIN 6 - 2

Another week and another team trying to pull out all the stops to slow us down. From only being able to field 9 players against Clutha, they somehow managed to have a full team and 4 subs against us. A fun fact for the year, our team has been capped at 4 goals scored hitting the feat 7 in 13 games.

We started the first half into the wind, and despite the environmental factors we established dominance and had most of the attacking opportunities. A wind assisted break saw us go 1 down after they had tehir first attack close on half an hour into the game. This sprung a bit of life into the team. We started to play it around the back, and without noticing Damo there, the keeper made a costly error trying to dribble the ball around him, 1-1. Donkey made a 90m dash starting the move off in defence only to miss the goal from a metre out. David and Damo then linked up for a well worked effort to put us 2-up 1 at the break.

Surviving the 2nd half's brief blizzard, the wind eventually died down, the sun came out and in the still eeriness of Brockville we took control of the game, hitting our 4 goal cap in the first 10 minutes. Buzz made two substitutions, a minute later one sub would take the corner and the other sub would head it into the back of the net. Our 4 goal cap per game was broken, 5-1. Donkey would do what the Black's do best and concede an unlucky penalty, but these boys go hard and take no prisoners!

The last goal of the game saw Damo knock a long ball down the wing, with blistering pace Mike runs onto the ball. With two defenders on him, and the keeper to beat, he needed some help. The only other person in the half, steaming up from defence and sensing an opportunity, was Jez. A simple square ball saw Jez make it 6-2 and a solid win to keep us in the chase for 1st.

Good luck to the 3rd Whites who take on Green Island this week.

POD - Nick Van Der Heyde


BRUMBIES
| Aotea Electric Ltd: Men's Division 3
Played Green Island AFC Sharks at Sunnyvale
DRAW 1 - 1

On a crisp Saturday afternoon, the Brumbies went up against Green Island. The sun was trying to peep through as hail came down on us during our warm up. Coming off a heavy loss, the boys were raring to go and get a much needed win to get into the top 4. In our new normal 3-5-2 formation, we started off strong with a goal in the first two minutes. This beauty was scored by George Miller on a break away chipping the keeper.

With the bad weather it was hard to play good football. We were dominating running rings around them and playing lovely triangles with many shots, creating many chances. Green Island didn't have many chances in the first half, with our two main strikers on holiday our replacements found it hard finding the back of the net.

Into the second half we started off strong but it became a game both teams were desperate to win. 50/50 challenges were very even and both teams wanted to play for the badge with pride. Some quick thinking by Green Island made it 1-1 with a free kick taken quickly outside the box.

The game ended 1-1 in the end. Both teams fought to the last whistle and was a tense game. We look into next week where we are looking for a 5th place position in our league, and lots of things to work on in training this week.

MUSTANGS
| Switchbuild: Men's Division 4
Played Northern AFC at Brockville
WIN 4 - 0

BLACK (FORMERLY RESERVES)
| David Browne Contracting Ltd: Women's Division 1
Played Otago University AFC at Brockville
LOSS 3 - 4

This weekend the David Browne Contracting RWAFC Black team took on the Otago University 3rds at a chilly Brockville Park. It was destined to be a tough match and it lived up to expectations. This was the only team we were unable to beat in the first round, scoring a late equaliser in the last minute of the previous game for 4 all draw. I thought we were heading for déjà vu moment again! Alas, despite being on attack when the final whistle blew, this time we were unable get that last goal.

We were 2-0 down early in the game but in true style, soon pulled both those back to be 2-2 at halftime. Early in the second half saw Uni pull away to a 4-2 lead, only to see their advantage reduce when we scored once more. 4-3. Unfortunately, that remained the final score. We had some injuries during the game which forced a bit of reshuffling of players in their positions but with determination, the players took on settling into the new positions on the field and supporting those who had been unexpected shifted.

Now, having faced our first defeat, we can address what we can improve on and set out sights on the next match against last seasons winners, Dunedin Tech.

Player of the Day, our goalkeeper Emily Potter.

SHETLANDS
| Property Brokers: Women's Division 1
Played at
LOSS 2 - 3

WHITE (FORMERLY FILLLIES)
| Hope & Sons: Women's Division 1
Played Dunedin Technical - Caversham at Brockville
LOSS 3 - 2

For the second week in a row we faced up against CT. Once again a huge thank you to them for organising the referee for the match. Football is a terrific sport, you can go from hero one game to villain the next. That was the case today as CT pounced on a gk error to go 1 nil up, and then a few minutes later we were 2 -0 down after a misplaced backpass put their striker through on goal. The first half was very disjointed and we turned put to be lucky when the heavens opened up and Hancock Park became a freezer, an early half time was called and we all rushed to the changing sheds. This was the catalyst we needed to put in a much better all around effort in the second half. We had better possession and Mamia capitalised on it bagging herself two class finishes in the six yard box. Unfortunately that villain I mentioned earlier was still having a mare of a game and CT broke through and scored with a well taken finish for a third goal to go up 3-2. The last 10 minutes we gave it all for another goal. Tyla put in a fantastic corner in the final play of the match which Helena and Mamia both had a go at in a goalmouth scramble but the CT defense and keeper had it covered. A really enjoyable game only a little disappointed we couldn't gain any points. Mamia was outstanding in midfield and up front, her positive chat drove the team forward and her goals were well taken. POTD Mamia.

ORIGINALS
| Adams Plumbing & Electrical: Masters 35+
Played Mornington AFC at Mornington Park
WIN 1 - 6
POD - Dan Todd

COLTS
| Downie Stewart Lawyers: Masters 45+
Played Green Island AFC 45+ Gold at Ellis Park
LOSS 0 - 3

TROJANS
| Connor Consulting: Masters 45+
BYE

DRAW for 14 Aug
Men's Prems:
2.45pm vs Wanaka AFC at Ellis Park
Women's Prems:
FINISHED
2nds:
12.30pm vs Dunedin Technical AFC at Brockville
3rds:
12.30pm vs Green Island AFC at Sunnyvale
Blacks:
12.30pm vs Northern AFC at Forrester Park
Brumbies:
2.45pm vs Green Island AFC Sharks at Brockville
Mustangs:
12.30pm vs Green Island AFC Tippers at Brockville
Women's Black:
12.30pm vs Dunedin Technical AFC at Culling Park
Shetlands:
12.30pm vs Otago University Women's Yellow at Ellis Park
Women's White:
12.30pm vs Mornington Taniwhas at Brockville
Originals:
2.45pm vs Northern AFC at Forrester Park
Colts:
2.45pm vs Grants Braes AFC at Ocean Grove
Trojans:
2.45pm vs Green Island AFC 45+ Gold at Sunnyvale
Please note the draw is subject to change.
You can find the official draws here:
PREMIERSHIP - SENIORS - JUNIOR/YOUTH

UPCOMING EVENTS AND NEWS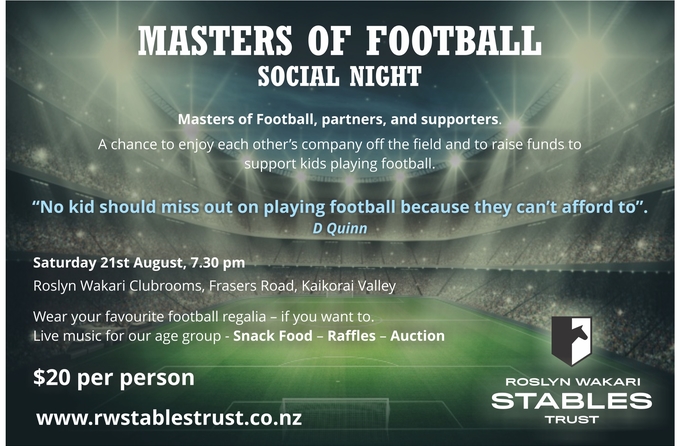 100 CLUB WINNERS - 31 July
| | |
| --- | --- |
| Prize | Ticket |
| $100.00 | 30 - Sheryl Walker |
| $50.00 | 47 - Pete Hill |
| $50.00 | 19 - Dave Johnstone |
| $25.00 | 58 - Dennis |
| $25.00 | 37 - Wally |
| $25.00 | 80 - Tom Stevens |
| $25.00 | 98 - Bucky |
| | |

Organisation is under way for our annual prizegiving which takes place on
Saturday 18 September from 5pm
.
Tickets will be on sale soon and will sell out fast so save the date!
Get your team along and make it a good night as we celebrate both team and individual successes.
Our regular one man band Al Gray will be providing the post match music on the night.
UPCOMING EVENTS
Sat 21 August - Masters of Football Social Night
Fri 3 Sept - Quiz Night
Sun 5 Sept - 100 Club Draw
Sat 18 Sept - Prizegiving, 5pm
23-25 October - U19 Men's and Women's Coastal Spirit Tournament

SPONSOR HIGHLIGHT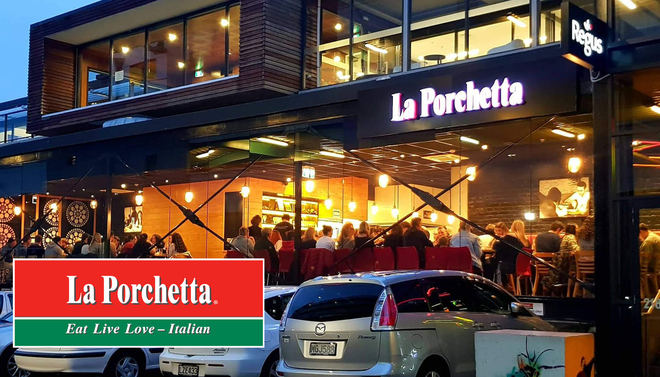 At La Porchetta we are delighted to be supporting Roslyn Wakari AFC for another exciting season of football by providing player awards for the junior teams and gift vouchers for the seniors. We love seeing the photos of the weekly junior winners and enjoy welcoming their smiling proud faces when they come to the restaurant to redeem their vouchers.
For your end of season team celebrations, we have some great options for group dining. For junior teams we can offer a pre-order selection of pizza, fries and wedges for as little as $10 per player. For adult teams these prices start from as low as $16 per player.
We also offer fundraiser dinners which are ideal if you need to fundraise for new gear, travel for out of town games, prizes or anything else that your teams might need. Fundraiser dinners raise $10 from every person that attends so they are a great way to raise funds while having a great night out. We are fully licenced and also BYO.
For more information, contact us by calling on 974 8870, email us at dunedin@laporchetta.co.nz, message us on our Facebook page or pop in and see us at The Mall 218 at 218 George Street.