Not the best weather for attractive football on Saturday but our teams got out there and put in a good showing as always. It was great to see the clubrooms full again with the visiting Wanaka team staying for a bite to eat, a couple of junior teams joining in and a number of club legends there to hear how the days games went.

We're nearing the end of the season for most divisions, good luck to those teams who are in the running for a top placed finish.

Giddy up!
Wayne


WRITE-UPS - 14 AUGUST

MEN'S PREMS
| Amalgamated Builders Limited: Southern Premier League
Played Wanaka AFC at Ellis Park
WIN 1 - 0

Squad: 1 Tom Steven's (c), 3 Karma Gyeltshen, 4 Luke William's, 7 Jack McFarlane, 8 Sam Cosgrove, 10 Luke Clissold, 12 Dylan Edwards, 14 Nathan Wilkie, 16 Zac Baird-Hodge, 18 Tom Bealin, 19 Shay Thom. Subs: 6 Ben Sinnot, 13 Flynn McCaul, 20 Michael Sweet, 21 Brandon Sumpter

This week was a very different affair for our playing group, with illnesses, injuries and planned events we were short of some of our usual players. As I have said all along it doesnt matter who doesnt play, the next player coming in will slip in seamlessly.

Today I had a very bare 11 with no fresh substitutes, the subs were backing up from there own game played prior to ours. In come Tom Bealin at centre back, Shay Thom at right back, Karma Gyeltshen at left back, Dylan Edwards at right wing and Jack McFarlane acknowledges into the middle of the park.

We looked good from the start trying to build play and create opportunities. We had our opportunities as did Wanaka. We go in at 0-0 at half time, a lot of players being frustrated with themselves and with others I ask for calm and to manage our frustrations better to be patient and to squeeze on and press and hurt them on the counter attack.

The second half brings a lot of opportunities which we just miss or over pass, we get a penalty through Luke Clissolds endeavour to win possession back in the 18 yard box he takes a touch before being hit by the GK, the ref blows for a penalty. Up steps Nathan Wilkie to try to convert, only for the keeper to make a good save. We still have the better chances of the two teams we finally get a goal through Dylan Edwards who hits it cleanly from about 16 yards out after a corner kick wasnt cleared properly.

Wanaka have opportunities as do we but the game finishes 1-0 with our first clean sheet for the season. I thought the reffing was very good apart from 1 incident where a player has lashed out and struck one of my players, I have had players from my side sent off for less so that was the only blemish on the performance.

I would like also to acknowledge Jo Stewart and thank her for organizing our ball boys for our home games thank you Jo, along with thanking the ball boys! Thank you to Norm McRobie and The Big for your continued set up of the first team pitch before and after the game it doesnt go unnoticed. To Wayne Facer, Peter Verwey and the committee thank you for your on going belief in what we are trying to create as a club, it started showing in yesterdays game with the depth that we are carring and developing.

And to my guys our last game next week against Queenstown we need a result to finish our season off.

Players of note today Tom S and Tom B, Sam, Luke C and Luke W. A debut for Ben Sinnot. Player of the Day, Zac Baird-Hodge, excellent attitude and a real desire to want to work hard also energy to burn a constant threat well done!
Regards
Terry


WOMEN'S PREMS
| Affinity Mortgage Advisors: Women's Premier League
Finished 3rd


2ND'S
| Fluid Recruitment: Men's Division 1
Played Dunedin Technical AFC at Ellis Park
LOSS 0 - 1

The Fletcher Cup squad took on table topping Tech at Ellis Park. Tech are a very experienced and physical team. It was a great challenge for our young boys and an opportunity to learn about the tough games you face each week in this league. We started very well and dominated the first 20 minutes. Unfortunately we were not able to covert some opportunities that came our way. Our best chance saw a goal bound header cleared off the line. Tech grew stronger and we had to defend very well to go in even at half time.

The second half continued in the same manner as the first with the game being very even and both teams creating chances to open the scoring. Tech took the lead when a ricochet fell to a Tech player in the box and they tucked it past Brandon in goal. The last 20 minutes saw us grow stronger and 4 opportunities to equalize were not taken. A 1 nil loss but a superb team performance from the youngest team in Fletcher Cup. The team has grown and developed into an exciting, organized and resilient group of young men. Its exciting what next season will bring if they keep working hard.

A number of players put in great performances. Shaman, Gus and Ben were strong at the back. Ben WD made a positive return after injury. Player of the day was Joe at centre back. He was our rock and won numerous headers and never missed a tackle.
Lance


3RD'S
| Back In Motion: Men's Division 2
Played Green Island AFC at Sunnyvale
LOSS 4 - 2

A disappointing 4-2 loss for the Back in Motions 3rds vs Green Island at Sunnyvale this weekend.

We were 2-0 in the 20th minute thanks to goals from Brody Hall and Michael Meyer and were in a very commanding position early. We'd got in behind them a number of times and looked very dominant. Unfortunately we then seemed to take our foot off the gas and allowed GI to gain in confidence by giving them too much possession and space. The result? GI scoring two goals themselves and us now going into halftime 2-2.

Our second half into the wind was always going to be tough despite creating a number of chances ourselves we were unable to convert any. GI now the dominant team winning second and third phase ball by being the more aggressive and eager of the two teams. They made their dominance pay by scoring two more goals to take the win 4-2.

We've left ourselves a lot to do now in the competition and a top three finish looks beyond us. We're still going to continue to play and finish as high as we can. We host Northern next weekend at Ellis Park. If you'd like to support some of our younger players with aspirations of representing our Fletchers and Prems in the future come along and give us your support.

A huge thanks to Scott Mason for refereeing.

Man of the match - Jake Gilchrist. Never stopped running always a threat.


BLACK'S
| Hugh Madden Ltd: Men's Division 2
Played Northern AFC at Bayfield
WIN 1 - 3

The 3rd Blacks had another "cup final" must win game against a handy, high flying Northern team, who are just a couple of points behind us. The preparation wasn't the best with being transferred 2 hours beofre kickoff to the other side of town! We started the game strong with the wind at our backs, taking the lead 5 mins in through Oscar Black with a trademark turn the defender inside out and stroke a great effort past the helpless keeper, from a great assist from Jez who was sitting down at the time. We went on to play some good, dominant football and got our rewards on the half hour mark when Jez, seeing their keeper off his line, had a shot on target from his own box, after a few bounces our very own club legend, I'll be back Terminator Damo Foster, sniffed a chance and pounced to make it 2.0. A minute later we were 3.0 up with a great headed assist from Damo for Sam to head home. 3 nil up at half time.

Now time to face Northern and the wind. There was plenty of fight from them in the 2nd half, they managed to get a scrappy goal that I'm putting down to the conditions but apart from that they didn't trouble our rock solid back line and we continued to be dominant in possession and creativity. We were unlucky not to add a couple more goals to our scoreline. Over all a good win with strong performances from everyone in the team. Player of the day went to Richard the Lion Heart Fyfe who is double the age of his apponents and never lets us down, the best Black on the day was Blackie senior!
Giddy up! Buzz


BRUMBIES
| Aotea Electric Ltd: Men's Division 3
Played Green Island AFC Sharks at Brockville
WIN 3 - 1


MUSTANGS
| Switchbuild: Men's Division 4
Played Green Island AFC at Brockville
DRAW 1 - 1

Today we had GI up at another windswept Brockville! We were a bit light on numbers and an injury ridden bench but we made do!

We started the game fantastic but we had the wind strong in our faces so we kept the ball on the deck and controlled the bulk of the game! Struggling to get through the back line due to the wind we ground out the half at 0-0. Pete Evans pulled of some cracking saves to keep us in the game.

2nd half wind behind us we got straight into GI with Ethan opening up the score with a ball beautifully knocked in from outside the box by Eddy for Ethan to collect in the box and smack it in! Mustangs in control we had a long free kick which James hit! The wind carried it for the ball to drift over the keeper but unfortunately crack the bar! Unfortunately for us the wind died a bit and we tired! GI with a run down the left wing beat our defence and toe poked it, the ball took a very lucky curl away from Pete's hand to equalise. Mustangs tried but it was a stalemate to the end. 1-1 good reflection of the game but we didn't deserve a draw but that's football. POD to the wise head between the sticks PETE EVANS.


BLACK (FORMERLY RESERVES)
| David Browne Contracting Ltd: Women's Division 1
Played Dunedin Technical AFC at Culling Park
WIN 2 - 5

On Saturday, the David Browne Contracting RWAFC Black team took on Dunedin Tech White in windy conditions at Culling Park. Having experienced our first defeat of the season the previous weekend, I think the sentiment of the team was summed up when Captain Amelia declared before the game "We're not losing two weeks in a row that's for sure!" She also made the smart decision to play with the wind in the first half, informing me that it'll drop in the second half. She was right, I must find out where she gets her weather info from …

Our team went out and played our usual game, taking it to the opposition. Once we had settled and got the measure of the conditions, before long we had scored a couple of goals. They managed to pull one back against the run of play, only for Roslyn to extend the lead before half time. But that point, not only had Tech been outplayed on the field but broken psychologically. The easing of the windy conditions in the second half allowed us to start playing some more constructive football and at the final whistle the score was 5-2.

Player of the day was Neve Darlington, who with her tireless running and attacking play, kept the opposition backline on the edge of their own penalty box, not allowing them to feature in the game.


SHETLANDS
| Property Brokers: Women's Division 1
Played Otago University AFC Yellow at Ellis Park
WIN 6 - 0


WHITE (FORMERLY FILLLIES)
| Hope & Sons: Women's Division 1
Played Mornington Taniwhas at Brockville
LOSS 0 - 7


ORIGINALS
| Adams Plumbing & Electrical: Masters 35+
Played Mornington AFC at Mornington Park
WIN 1 - 6
POD - Dan Todd


COLTS
| Downie Stewart Lawyers: Masters 45+
Played Green Island AFC 45+ Gold at Ellis Park
LOSS 0 - 3


TROJANS
| Connor Consulting: Masters 45+
Played Green Island AFC Gold at Sunnyvale
LOSS 3 - 0

The Trojans took on GI Gold on a puggy Sunnyvale 3 on Saturday. We started strongly, constructing many positive moves but conceded half way through the first half for a 1 nil deficit at the break. The second half saw some good play from us but we conceded 2 more mid way through the half for a 3 nil loss.

For us having 15 fit players (or as fit as they can be at our age) meant we could attack and run with confidence and play some good constructive football as we look forward to our last 3 games and letting Northern hold on to the coveted wooden spoon. POD was a toss up to our returning man mountain Andrew Dawson and Charlie Pryde between the sticks but Charlie got it on a boundary count-back. 3 home games for seasons end will save on the teams petrol cost which means we can invest in more match winning Sambuca!



DRAW for 21 Aug
Men's Prems:
2.45pm vs Queenstown AFC in Queenstown
Women's Prems: Finished - 3rd
2nds:
12.30pm vs Northern AFC at Forrester Park
3rds:
12.30pm vs Northern AFC at Ellis Park
Blacks:
12.30pm vs Dunedin Technical AFC at Ellis Park
Brumbies:
2.45pm vs Dunedin Technical AFC at Brockville
Mustangs:
12.30pm vs Northern AFC Southerners at Forrester Park
Women's Black:
12.30pm vs Dunedin Technical AFC Reserves at Brockville
Shetlands:
12.30pm vs Northern AFC at Forrester Park
Women's White:
12.30pm vs Mosgiel AFC at Brockville
Originals:
2.45pm vs Highgate Harbourside at The Oval
Colts:
2.45pm vs Green Island AFC Legends at Ellis Park
Trojans:
2.45pm vs Grants Braes AFC at Brockville
Please note the draw is subject to change.
You can find the official draws here:
PREMIERSHIP - SENIORS - JUNIOR/YOUTH

UPCOMING EVENTS AND NEWS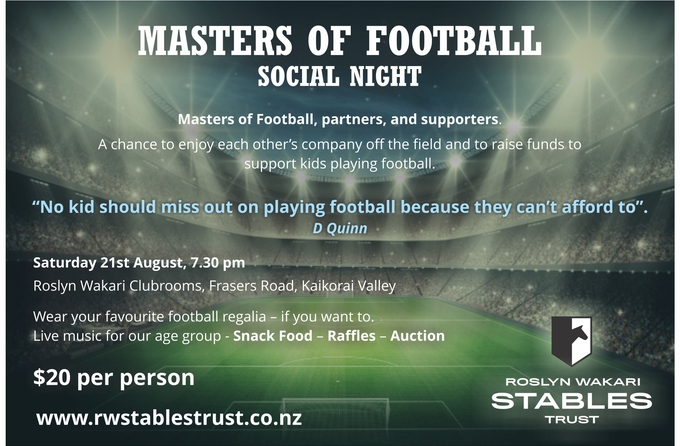 100 CLUB WINNERS - 14 AUGUST
| | |
| --- | --- |
| Prize | Ticket |
| $100.00 | 52 - Chopper |
| $50.00 | 70 - Viv Pryde |
| $50.00 | 22 - The Lippers |
| $25.00 | 86 - Rachael V G |
| $25.00 | 67 - Sue Verwey |
| $25.00 | 17 - Hugh Madden |
| $25.00 | 89 - Nick Hart |
| | |


Organisation is under way for our annual prizegiving which takes place on
Saturday 18 September from 5pm
.
Tickets will be on sale soon and will sell out fast so save the date!
Get your team along and make it a good night as we celebrate both team and individual successes.
Our regular one man band Al Gray will be providing the post match music on the night.
UPCOMING EVENTS
Sat 21 August - Masters of Football Social Night
Fri 3 Sept - Quiz Night
Sun 5 Sept - 100 Club Draw
Sat 18 Sept - Prizegiving, 5pm
23-25 October - U19 Men's and Women's Coastal Spirit Tournament


SPONSOR HIGHTLIGHT - Cableways Liquorland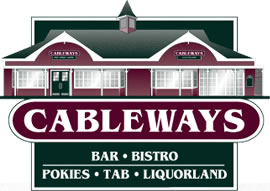 Support one of our long term and generous sponsors

Cableways has an extensive selection of New Zealand and imported wines at competitive prices. Our Cellarmasters Club meets bi-monthly while the Craft Beer Club meets on the second Tuesday of each month. Spirit tastings are regularly held. All tastings are hosted in in our dedicated Tasting Room at Cableways and normally cost $15. Food is provided. We have an extensive and ever changing Craft Beer selection and are prepared to source your special favourites. We enjoy helping organize your special function. We are the preferred beverage supplier to a number of caterers and have extensive experience in offering practical and cost effective advice. Our staff are experienced and keen to help.

People want things easy. And that's what we do.

manager.cableways@liquorland.co.nz | 476 7680 | www.liquorland.co.nz/stores/cableways/