A very successful Saturday for the club saw most teams win with our mens prems winning 2 1 in Queenstown and our womens prems sneak home 15 nil V Mosgiel. Four of our teams are in the top 2 of their grade and another is in 3rd place in the senior mens and womens grade in our quest for the coveted Hanlin shield.

Our International Festival is now on Saturday 19 September which coincides with most of our teams last official fixtures.

Giddy Up!
Wayne and Mark
Co-presidents

MEN'S PREMS
| Amalgamated Builders Limited: Southern Premier League
Played Queenstown AFC in Queenstown
WIN 1 - 2

Saturday was a very long day with us leaving the club at 08.30am and arriving back at 9.00pm. We played the first half like we were still on the bus, we had a couple of half chances that went begging mainly because we lacked a real composure or a quality of a finish when it was required, but the positives are we are still creating good scoring opportunities. Unfortunately though we went 1-0 down to a counter attacking move just before half time, Queenstown counter attacked down our left hand side finishing with a far post runner being unmarked and scoring. The whistle then went with it being half time.
At half time I asked the guys to show a bit more hunger and desire, while also changing our formation and playing personal, once the guys had their new roles and responsibilities we played with that true grit and determination that we have been building on all season. In the second half we pressed and harried Queenstown into turning over the ball in their half, with doing so we created a lot of opportunities which eventually would come to fruition, with us scoring two well constructed goals. Nathan Wilkie scored both goals for us with some great composure and being in the right place at the right time. The boys showed a real passion and a real desire to really not leave any stone unturned. The second half performance especially was of a high intensity and a real show of the guys will to want to win, but also of game management as well. For me all players played well. But Luke Williams and Jak Stevenson really showed their smarts and game management and understanding with both of them getting Man of the match.

This weeks game against Dunedin Technical will be a real test of where we are as individuals and also as a collective group. See you on Saturday.
Regards Terry.

POD - Luke Williams and Jak Stevenson
WOMEN'S PREMS
| Brandwell Moller: Women's Premier League
Played Mosgiel AFC at Memorial Park
WIN 0 - 15

The Roslyn Wakari Premier Women's team faced Mosgiel this week. First off the team would like to wish Sam a speedy recovery from her knee surgery mid week. We went out to this game with mind set being team success, playing a positive game. Neve would put us ahead with a classic scoop shot. We would grab a couple more before half giving us a 5-0 lead. Second half seen us playing our Roslyn Way, maintaining the ball and exciting football. We created plenty of chances and were able to net another 10. Una stepped up and played in goal today, even winning 4 on 1 situation during a mosgiel attack. Midfield was exceptional all round and Holly White's magic feet were in full action. Back lines pass completion rate was great. Overall the performance was good, still plenty to work on leading into our final games of season. Goal scorers, Neve, OG, braces to Holly J and Renee, hat tricks to Amelia, Emma and Juliette. Z Energy Player of the Day going the Amelia for her exceptional work rate. Next week GI, Giddy Up.

POD - Amelia
2ND'S
| Fluid Recruitment: Men's Division 1
Played Grant Braes AFC at Ocean Grove
LOSS 3 - 2
3RD'S
| Back In Motion: Men's Division 2
Played Caversham AFC at Hancock Park
WIN 0 - 3

The thirds had a comprehensive 3-0 win vs Caversham on a sunny Hancock Park this weekend. A first half goal by Fletcher Graham and two second half goals by Michael Fox and Ben Williams was enough to seal the win.

It was good to get the win as Caversham had beaten us at home in the first round. This was a vastly different and somewhat depleted Caversham side from the previous game. We started the stronger and were able to score early after a slick counter attack was finished off by Fletcher Graham. While for the remainder of the half our effort wasn't as productive as the opening exchanges we continued to keep Caversham out and went into halftime 1-0 ahead. The second half was a different story. Caversham started to tire as we moved them around and they were unable to keep up with us. We scored two more through Michael Fox and Ben Williams before we missed a penalty late on. In all a pretty comprehensive win that puts us in outright third place in Division II with five games remaining.

Our thoughts are with Anthony Meldrum-Harris who looks to be out for the rest of the season with a serious knee injury.

POD - Michael Fox

1888's
| Aotea Electric Ltd: Men's Division 3
Mosgiel AFC DEFAULTED
WIN 3 - 0
MUSTANGS
| Switchbuild: Men's Division 4
Played Balclutha AFC at Brockville
WIN 4 - 0

Up in the high altitudes of Brockville we had the pleasure of hosting Balclutha. With the Mustangs losing to them in the first game, we had a point to prove. That we did!

It started off a bit of a stalemate until Nathan slotted home a shot from outside the box to score his 2nd goal in 2 games. All of a sudden we woke up and within 2 minutes we went 2 up with a breakaway run for Liam to beat the keeper. The Mustangs debutant Adam played a phase on right midfield which he done well, well enough to take on a few players a sneak the ball past the keeper to make it 3-0. Halftime we were happy chaps. Went back out and we dominated spending most of the time in their half. The coach missed 2 great chances and even attempted a terrible bicycle kick which was a major fail. Liam got his 2nd goal to make it the 4 from a very casual goal kick for him to intercept and knock it in. All within the rules much to Cluthas disgust.

Alot of standout performances and a big thanks to Royce and Sam for helping out as their game got defaulted. But a big shout out to Pete and Eddy for the efforts in the cm roles. Great balls, smart play and getting stuck in. Our Keeper Adam didn't have much to do with probably under 10 touches of the ball and 3 saves. Another clean sheet.

Thanks to WVG for reffing the game for me.

POD - Eddy
HOTSPURS
| Education Enterprises: Men's Division 4
Played Mornington AFC at Mornington Park (mid-week game)
LOSS 3 - 2

The Hotspurs made the trek to Mornington Park on Thursday night, for their rescheduled game that we requested since most of the mob was going to be away on Saturday on a planned ski trip, that was subsequently cancelled.
The lads hit both posts in one movement and this summed up our night as the Mornington men adjusted to the conditions better and controlled the game effectively and locked down our fast running games with their strength and guile. One nil down was against the play and we were 2 nil down by early in the second half. We scored from an own goal to give us some hope but we then went 3 1 down but hope was flickering when Nick Shaw turned and shot at the top of the box for 2 - 3 down at the final whistle. Player of the day for us was our goalie Mitchell Hohaia was was outstanding between the sticks.
Next week we play top of the table Mosgiel who are a point ahead of us in the title defining match.

POD - Mitchell Hohaia

RESERVES
| David Browne Contracting Ltd: Women's Division 1
Played Green Island AFC at Sunnyvale
WIN 0 - 2


RWAFC RESERVES made the trip to Sunny Sunnyvale to face a very physical Green Island side, Grace Blackie would seize up her back during the warmup and rule herself out for the game and spend the afternoon sunbathing but we could see she was in real pain, big thanks to Jade H and Jada helping get her car home, hopefully you bounce back quickly!!
In the opening encounters poor Kate discovered it wasn't going to be an easy day up top as a very 'solid' GI backline let her know they were there and the Ref let things flow so unfortunatley this set the standard for the game as she got smashed every time she got the ball, but to her credit she never backed down till the final whistle and put in some big tackles herself, hope you're not too sore today!! Elly and Newlands combined on the right hand side to to open the game up on numerous occasions and dominated their opposition. Kate would get us on the board at about the 30min mark with a goal from a tight angle driven past the keeper to give us a 1-0 lead at halftime, second half and much of the same end to end football, our defence played well today keeping out the GI attackers and making Jades job a bit easier, Paige Julian would grab our 2nd with about 10mins to go to seal a 2-0 win, it was a team effort so well done to everyone involved today. PODs today went to a couple of ladies who when the heat and physicality of the game stepped up they didn't back down, they stepped it up a gear and took a bit of the heat off the younger girls so thank you for your efforts Susan and Zoe. Next week Derby day vs the RW Shetlands. On a closing note we would like to wish Sam Grey a speedy recovery after going under the knife mid week, hopefully you will bounce back and be back pitchside annoying everyone soon.

POD - Susan and Zoe
FILLIES
| Hope & Sons: Women's Division 1
Played Caversham AFC at Brockville
WIN 8 - 1
SHETLANDS
| Southern Wide Real Estate: Women's Division 2
Mosgiel AFC DEFAULTED
WIN 3 - 0
ORIGINALS
| Adams Plumbing & Electrical: Masters 35+
Played Grants Braes AFC at Ocean Grove
WIN 0 - 4

Right from kickoff, we managed to control most of the play, although we were lacking in cutting edge. We eventually scored when some good build-up play from Lippy saw their keeper block a powerful shot from Steve with his face before Lippy tucked it home. Hayden doubled the lead when he ran onto a delightful through-ball from Maff and finished nicely.
The second half saw us continue to dominate possession and chances. A third goal resulted from a brilliant run from Rich whose effort was well-saved, only for big Nige to bundle it in from inches out. We capped off a good win when Morgs headed home from a superb Rich corner to score what will undoubtedly be his only goal of the season, and no-one wants to see him attempt another "Siii".
Fulltime saw a 4-0 scoreline, and Braes had barely had a shot all game. Still big ups to Fozz for volunteering to have a snooze in goals, and to Maff and the Braes youngster for doing a great job with the whistle.

POD - Cam
COLTS
| Downie Stewart Lawyers: Masters 45+
Played Dunedin Technical AFC Lions at Ellis Park
WIN 4 - 0
POD - Barry Still
TROJANS
| Connor Consulting: Masters 45+
Played Mosgiel AFC at memorial Park
LOSS 5 - 1

The Trojans played Mosgiel on the plains and had high hopes of a victory. With desperate calls from Mosgiel asking for a deferral due to 9 men they turned up with 15 players, many unknown. We played well in the first half being nil all but switching Chris Connor our keeper at half time may not have been the best option as we slid to a 5 1 loss with a late Joseph Mundava goal giving us a sliver of dignity. There were a few contenders for POD but management decided to give it to our evergreen Graham Musgrave on the day who had both rampaging and silky runs down the flanks.

POD - Graham Musgrave
Green Island Tournament Write-Ups
10th Grade Broncos:
The Broncos tournament went the same as the season to date, some great football in really tight battles. First game was a warm up against Malchester not counting towards the points table that ended up a close 1-0 loss. Second game was against Maori Hill and a 3-0 loss. Third game and the boys were finding their stride, beating Malchester this time 1-0. Final game of the pool against Maori Hill again was a tight game and a 0-0 draw. They finished up with a win, a loss and a draw and just missed out on progressing to the semis. The team that went through had a win and two draws which shows how just close the competition was.

10th Grade Unicorns:
In the Pool play our all-girls 10th grade team, drew their 1st game, won their 2nd game, drew their 3rd game and lost their 4th game. They made the semi-final and played against Cromwell (an all-boys team) the girls scored the first goal and Cromwell came back with one. Our Goalie Holly got a kick to the knee and the head but kept up the fight right to the end. The game then went into overtime taking a player off every minute, we got down to 2 players and goalie, and then no goalies, Isla had run her legs off in the mid field so I took her off and put our goalie Holly on the field with Charlie. The 2 girls vs 2 boys the girls held them out for another 6-7 minutes before the Cromwell boys scored the winning goal.
I am proud of every single player they all had a part to play throughout the tournament and they all gave 110%.
The girls are in their 4th season playing together and it is wonderful to watch them grow and develop new skills every year, I am lucky as the coach to have support from the Team Manager Jamie Kerr and the Parents.

9th Grade Trotters:
The Trotters played some really good football against some bigger and stronger teams last Sunday morning, finishing the tight group stage with a win over Winton, a draw against Melchester (eventual winners) and a loss against Green Island (other grand finalist) – unfortunately our goal difference saw us miss out on the Semi-finals, but the boys still had smiles on their faces and are looking forward to next year's tournament already!
Giddy up.

9th grade Pegasus:
First game was against Moari Hill Country, we started off well with shots on target, however we couldn't find our first goal for the season. Very even game with both teams shooting on goal. Happy with nil all draw.
Second game we played Awamoa from Omarau, very handy team and our played us by about 6 nil. Girls got stuck in and never gave up.
Third game against Moari Hill Country again, needing a win to make the semi-final, this was another very even game. This time we knew if we could get the goal kicks out early, we would have very good chance. This proved to be the case with Charlotte doing this and Saki scored our first GOAL & WIN.
One very Proud Coaches and Parents but most of all the GIRLS.
Fourth game against Awamoa again, once again they out played us and won by 6 again. We played some younger girls in Charlotte Adamson & Sophie Smith who are much younger, both girls stuck in and didn't look out of place!!!
Semi Final against Moari Hilll White, another even game with end of end football but came away with are 2 nil defeat. All girls played extremely well with some great defending, tacking but most of all played with Smiles all day.
Very happy coaches
Coach Pete & Coach Una.
Thank you to all the coaches, players, and supporters who did Roslyn proud!

WHAT ELSE

FDO - HOLIDAY PROGRAMME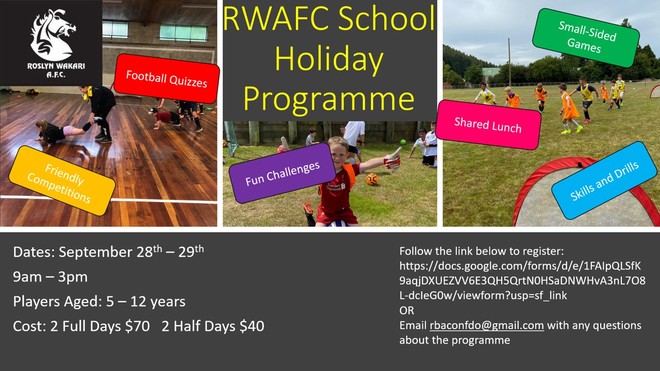 Term 3 Holiday Programme:
September 28-29

,

9am – 3pm
$70.00 for 2 full days or $40.00 for 2 half days
Players Aged: 5 – 12 years
REGISTER HERE
OR EMAIL
rbaconfdo@gmail.com
FDO - ROSLYN WAKARI ACADEMY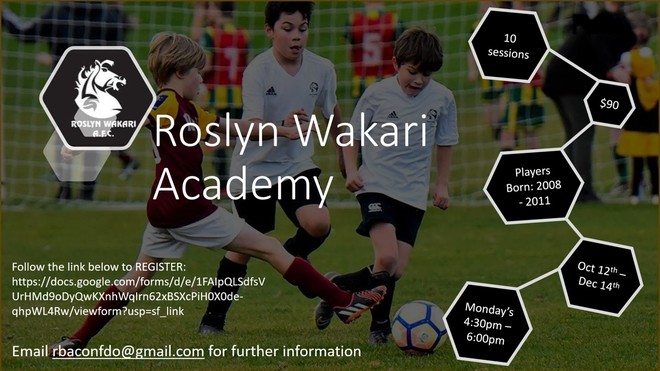 For players born 2008 - 2011
10 Sessions
Monday's 4.30pm - 6.00pm, October 12th - December 14th
$90.00
REGISTER HERE
OR Email
rbaconfdo@gmail.com
INTERNATIONAL FESTIVAL - SATURDAY 19 SEPTEMBER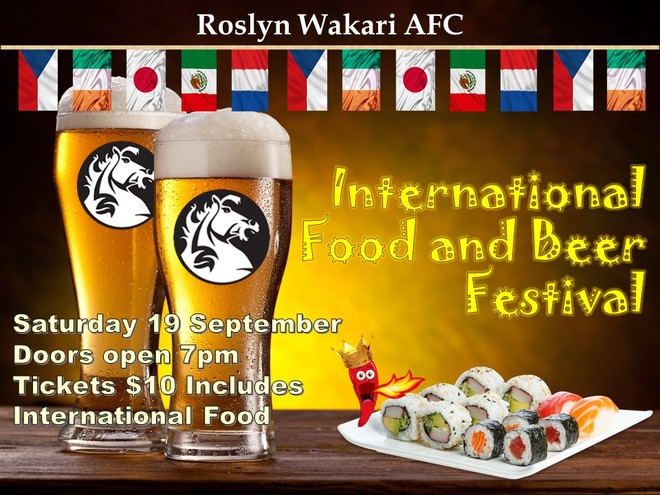 COASTAL SPIRIT U19 TOURNAMENT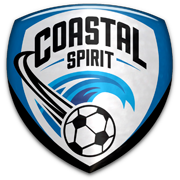 The club is entering both a mens and womens U19 team to partake in the Coastal Spirit tournament in Christchurch at Labour weekend.
This is part of our player and coach development strategic direction and our clubs focus on football. Squads will be selected and announced in the near future and we are awaiting the likes of exam timetables to come out which may well affect team selection.
Each player will be expected to find a $250 sponsor, from either a club sponsor or a newly sought one off sponsor as well as fundraising in the form of a raffle, quiz night proceeds, club BBQ's and a Lotto bonus ball, as well as other initiatives so as to reduce costs and support the players in this venture.
More details will follow in the near future.
100 CLUB WINNERS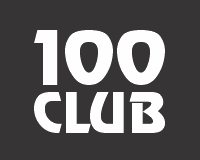 22 August 2020
Prize
Ticket Number
$100.00
19 - Dave Johnstone
$50.00
78 - Chris Connor
$50.00
63 - Shirlene P
$25.00
66 - Brandwell Moller
$25.00
71 - Rob Oram
$25.00
33 - Jez/Fletty/Irish
$25.00
23 - Charlie P
SNONSOR HIGHLIGHT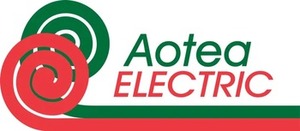 Aotea Electric Southern are a locally owned business, starting in Dunedin in 1991. All of its owners are proudly passionate about Dunedin and Otago and its people. Aotea is actively involved with sponsorship and support of many schools, sports clubs and community activities in our region. Our aim is to actively invest and support our local community.
Aotea provides Electrical services, and we would proudly say 'anything with a wire' we can do. We have a large base of Contracting Electricians, a 24/7 Servicing team for all jobs big to small, Commercial Kitchen and Coffee Machine specialists, Workshop service for tool repairs, Fire Alarm team, Communications and Data team and we also have a Compliance divison for your IQP and BWOF requirements.
Give our helpful friendly staff a call, Im sure we can help you!
info@aoteagroup.nz | 0800 268 353 | www.aoteagroup.nz