We're looking forward to our inaugural sponsors function this Friday at the club where we will recognise and celebrate our many sponsors who contribute to our club in many ways and often have over a number of years.

Wayne and Mark
Co-presidents

MEN'S PREMS
| Amalgamated Builders Limited: Southern Premier League
Played Queenstown AFC at Ellis Park
DRAW 2 - 2

Onto the game it was a very even affair with two teams trying to play football on a very poor pitch. The highlight was us scoring just on half time by Luke Clissolds free kick. The second half was a mix of a lot of emotions, we conceded a penalty kick when a ball was adjudged to hit our player on the elbow, their centre forward steps up and scored, Queenstown then take advantage of our emotions and they score again from a mistake at the back, from here the lads seem a bit flat and put off, but to their credit they then started to get into the game and started to dominate. We were rewarded with a well taken goal by Michael Sannum after our endeavours to pressure Queenstown, we then had two calls for two very obvious penalties turned down by the referee, consistency is not obvious with the match officials.

Im happy to say for the last two weeks we are starting to hit our straps and believe in the processes from training. The way we came back from being down to drawing against a very good Queenstown team is a testament to the playing group. Player of the day could have been a few players, everybody stepped up and played really well, but Curtis Day is starting to play at a good standard and his consistency is starting to show through.

POD - Curtis Day

WOMEN'S PREMS
| Brandwell Moller: Women's Premier League
Played Otago University AFC at the Turf
WIN 0 - 10

The Roslyn Wakari Premier Women's team faced Uni B at the Turf. It was sunshine on Leith for the game. We wanted a full 90min performance in which we all worked hard to maintain the ball today and that's what we got. First half saw us hit the wood work 5 times and Sam, our centre, back have to be carried off after 10 min, thankfully back home recovering now. Within the first half we played some beautiful possession based footy which also gave us a 3 - 0 lead. Really positive half time chat, as we were impressed with the work the ladies were putting in. Second half we played for the full half and were able to score another 7. Plenty to like about the game, midfield worked all over the field, Beth really stepped up and was attack minded and unlucky not to score, Emma moved the ball quicker than ever before and we as a team kept a clean sheet. Every goal was a team goal today via good build up play, scorers were Jordyn, hat tricks to Emma, Sammy and Amelia. Z Energy Player of the Day going to a player who has worked extremely hard for sevral weeks now and seems in career best form Jordyn. Final score 10-0. Next week the bye, time to heal up. Giddy Up!

Z Energy POD - Jordyn

2ND'S
| Fluid Recruitment: Men's Division 1
Played Dunedin Technical AFC at Ellis Park
DRAW 2 - 2

An unusual match for the Roslyn Div 1 game today that ended with a flurry of action in the final 8 minutes. 2 penalties and an edge of the box free-kick. All leading to goals that saw the final score finish at 2-2.
Goals to Olly Colloty and Mike Sweet. POD: Matt Cordelle – whose consistent performances are seeing him push closer and closer to a first team recall.

On a sad note, both teams observed a minute's silence for Josh Dykstra and his partner who lost their little baby last week. Our condolences go out to, not only Josh and his partner but to the entire Dykstra family at this difficult time.

POD - Matt Cordelle

3RD'S
| Back In Motion: Men's Division 2
Played Dunedin Technical AFC at Brockville
WIN 3 - 0

A brilliant result for the 3rds vs Dunedin Tech on Saturday at Brockville. Winning 3-0 with goals to Ben Williams, Dom McPhee, and Conrad Sinclair.

The boys have shown glimpses throughout the season of what they're capable of and on Saturday they put it altogether for a dominating display. There were a lot of positives from the potency of our attack to the domination by our midfield, rounded off with our unconquerable defence and goal keeping wall. In all seriousness the boys played incredibly well, restricting Tech to a few long shots and forcing them to change the way they played which still had no effect.

We've now set a platform for where we want to be and it's up to us to continue to work hard and keep getting the results. If we play like this for the rest of the season we'll win a lot more games.

POD - Luka Mandich, Dom McPhee

1888's
| Aotea Electric Ltd: Men's Division 3
Played Dunedin Technical AFC at Brockville
WIN 6 - 2

Saturdays game saw us move up to the highveld and play on the carpet that is Brockellis. In much better condition than Ellis Park number 2 there would be no excuses. After reading some of the much-hyped weasels write-ups we went into the game thinking this was going to be one of the toughest games of the season. After last weeks battle at Forrester we were low on numbers and so it wasn't the strongest team we could put on the park but I was hoping for an upset. We started well putting the weasels under the pump and then the dam broke with 4 quick goals going in. First was a nicely worked goal with Dom passing into the back of the net. Number 2 was an audacious back heal from Damo after great wing play by Hayden. 3rd was another excelllent piece of wing play where Hayden beat three players and then a perfect pass to Damo's feet for him to tap into the net and then the 4th was Dom beating half the opposition team and smashing it into the roof of the net. We then switched off and they scored a somewhat dubious long range goal that brad still denies went in and a counter attack goal with their speedsters. 4-2 at the break and we were a bit surprised for the first time this season someone had scored 2 against us. We then knuckled down and did the hardwork stifling their midfield and then hitting them with some more well worked goals with a great cross coming in from Lippy finding Damos head and then a great over the top ball for Damo one on one with keeper slotted it into the back of the net. Hayden Baker gave his all but Damo got the POD with 4 great goals. It was good having 2 good referees for both halves even if it was slightly weird having Hamish ref Techs half but he did a great job and g can run the line for our games all season if he wants!

POD - Damo

MUSTANGS
| Switchbuild: Men's Division 4
Played Mosgiel AFC at Memorial Park
LOSS 5 - 1

The Mustangs paid our friendly neighbours over the hill at Memorial Park a visit. We had a few names that were unfortunately unavailable, so left me scratching my head. Thanks to the 88's for lending me Royce for the day to give us that extra man. The game started pretty even until about 15mins in when they got a penalty which they slotted in. The boys kept their heads and powered on playing good football to be rewarded by an Andrew Lyndom goal. We settled down to bring the half in 1-1. Thanks to Chopper for Reffing on our behalf. 2nd half saw us lose 2 players due to injuries meaning 1 set of fresh legs on the bench. Unfortunately another penalty was awarded to Mosgiel due to a debatable handball! Adam mangaged to save it but just couldn't keep hold of it due to the pace it was hit at, allowing them to follow up and slot it to make it 2-1. This flattened us a bit and we tired. This began a strong attack from Mosgiel and we fought hard but unfortunately they kept coming at us. They were a good side and beat us 5-1 but on a different day this could of easily been a very different scoreline. So to my boys well done, kept your heads, stayed positive and battled to the final whistle!

POD- Peter Bowler

HOTSPURS
| Education Enterprises: Men's Division 4
Played Green Island AFC at Sunnyvale
LOSS 5 - 1

The Hotspurs had their first loss of the season against the GI Tippers at Sunnyvale. After taking the lead through Roberto, some defensive lapses saw some quick goals to GI and a 5 1 loss ensued. Nick Shaw was player of the day and shone on the pitch.

POD - Nick Shaw

RESERVES
| David Browne Contracting Ltd: Women's Division 1
Played Dunedin Technical AFC at De Carle Park
WIN 1 - 5

RWAFC RESERVES made the the trip down to the paddock of De Carle to face Dunedin Tech Maroon on a Sunny afternoon, big thanks to Sandy Gorman for removing the Goats before kickoff, I removed the dog poop! For the girls that played today we won't mention too much about the Reffing in the first half other than the fact that Kate should feel pretty hard done by the Dunedin Tech official as she created chance after chance only to be called back, enough said on that, we thought you were on fire Kate and cutting them apart!! We managed to take a 3-1 lead into halftime thanks to 2 from Kate and Aimee thinking she was about to score only to have EJ pop up at the back post to make sure of it as it rolled across the line. We would hold Tech scoreless in the 2nd as we added another 1 through Kate to seal her hat trick and Suz would also get on the scoresheet. Big effort by everyone today in what was our hardest game of the season to date. A couple of special mentions to Newlands who covered wing, fullback and centre mid, PVG I hear could be in talks with the Warriors if they can't secure Sonny Bill Williams after her tackle on Naomi late in the 2nd half to end her day, Elly who found her feet in a fullback role and dominated anyone who came at her.........but unfortunatley Crystal would pip her for POD as she was at the club to pick up a free shandy for her efforts. A massive well done by everyone, GI Reserves next Saturday on Ellis 1.
On a departing note thank you to all our players who stood with Dunedin Tech before kickoff for a minutes silence to acknowledge the loss of Eddie and Liz Dijkstra's grandson in Australia earlier this week.

POD - Crystal van Gorp

SHETLANDS
| Southern Wide Real Estate: Women's Division 2
Played Dunedin Technical AFC at Culling Park
LOSS 5 - 1

FILLLIES
| Hope & Sons: Women's Division 1
Played Green Island AFC at Ellis Park
LOSS 0 - 4

The Fillies played Green Island on a sun drenched Ellis # 3. The first half was very even and if anything we had the better of the chances but we just couldn't get it in the back of the net and it cost us. On the half time whistle GI scored from a corner where the delivery bounced off us straight in the back of the net to be down 1-0 at the break. The 2nd half I think we just run out of puff with only 12 players, the experienced GI team settled and controlled the game better and their goals came mostly from our mistakes. Otherwise it was a very even affair and I think the girls deserved more than a 4-0 loss.

POD - Ella Cone

ORIGINALS
| Adams Plumbing & Electrical: Masters 35+
Played Mornington AFC at Mornington
WIN 0 - 3

After a number of close matches that didn't quite go our way, the Originals took on a winless Mornington knowing it was a chance to pick up a rare 'W' ourselves. We also knew however that it wouldn't be easy going, especially on the small & bumpy Mornington pitch. The first half was a horrid watch, as we dominated and had a few efforts at goal yet struggled to string passes together and play proper footy. After some honest halftime chatter, it didn't take long for Maff to step up and smash a bullet past the helpless keeper to finally get us going. The home team had been scared of Buzza all day and he proved them right with a nicely taken goal - outside of the foot of course. Debutant Kev capped off a good debut with a well taken one on one goal and we kept our first clean sheet of the season, coming away with a 3-0 win. Thanks to the Mornington lads for a good game and Smarty again for reffing.

POD - Buzza

COLTS
| Downie Stewart Lawyers: Masters 45+

Played Green Island AFC Gold at Ellis Park
LOSS 2 - 7

… and then a bloody Freight train hit us.
Speaking without the teams agreement here, but I know they would concur, we are now "appreciating" our first ever rough patch, 2 losses on the trot…. fortuitously we have got the Bye this weekend, so it's all good J
The first half saw a very good Top of the table clash against the new entrants to the 45's Grade, the Green Island Gold lads. A highlight was the top class Penalty save by Lyall denying our former Roslyn buddy Jonno Jamison a goal against us - high fives all round for that!
However in the second half a flurry of soft goals to the GI Golds had the normally determined Pack of Colts shuddering. Not even an expertly taken penalty by Gaz McConville and another Mark McConville special late in the game brought any respectability to the score line.
Final tally was 5-2 down, MOM was our young 64 year old Goalkeeper Lyall who had as busy olde day to say the least. Full credit to our many fans that still come out to see their 50+ kids and Hubbys play J

P/s – The Colts extend their best wishes to Andrew Kennelly. The classy GI goalie broke his ankle in the 1st half following an ugly and unprovoked scrap with the Goal net, take care mate.

POD - Lyall

TROJANS
| Connor Consulting: Masters 45+
Played Green Island AFC Legends at Brockville
WIN 1 - 0

A depleted Trojans team took on the Green Island Legends at the highveld of Brockville. After 19 players last week we only ended up with 13 after sickness, injury and unavailability reduced numbers and meant all hands on deck. With big Tony on one wing and fast Tony on the other our pace stretched GI. Chris Connor was a man possessed in goal parrying many a GI assault away. A stalemate at halftime then saw a breakaway with Tony Hellriegel outpacing the defence and scoring and us holding out for grim death for the last 20 for the 1 nil win, our first of the season and the sambuca being baptized for the season and the result being settled on the pitch, as it should.

WHAT ELSE

UPCOMING EVENTS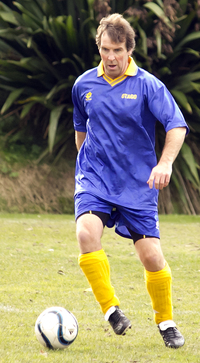 1 AUG: ROBBIE ORAM APPRECIATION DAY! Make sure you're wearing your best shorts on Saturday!
31 JUL: SPONSORS FUNCTION - Friday 7:30pm
7 AUG: RWAFC LEGENDS EVENING - Friday 7:30pm - Robbie Oram
22 AUG: INTERNATIONAL FESTIVAL - Saturday 7:30pm
11 SEP: QUIZ NIGHT - Friday 7:30pm
27 SEP: 100 CLUB DRAW - Sunday 2:00pm
10 OCT: PRIZEGIVING - Saturday 7:00pm
13 NOV: RW STABLES TRUST GOLF TOURNAMENT

SPONSOR HIGHLIGHT - FLUID RECRIUTMENT

Established in Dunedin in 2009, FLUID Recruitment is a boutique Dunedin agency that specialises in professional level recruitment. With satellite offices in Wanaka, Christchurch and Sydney we have a nationwide presence while focusing on the local Otago market. We are proud to sponsor and support a number of local organisations and sporting associations across Dunedin including Roslyn Wakari AFC.
Each of our Consultants specialise in one of the following areas, ensuring both clients and candidates receive market insight and specialist advice.
Accounting & Finance
Legal
Engineering
Information Technology
Sales & Marketing
Planning & Surveying
We utilise a combination of advanced search tool and good old fashioned relationships to keep informed of candidates coming into the market and clients with potential opportunities.
If you would like to work in partnership, either as a candidate or a client, please
contact Tom Stevens on 03 467 7227
or say hello to me at the club on a Saturday afternoon and I'll point you in the right direction.
Regards,
Tom
www.fluidrecruitment.co.nz
www.linkedin.com/company/
3343007
www.facebook.com/
fluidrecruitment