It was great to see most teams back training and playing this weekend as we look forward to a couple more weeks of footy to wind up the season.

Thanks to everyone for all their background work to help make this possible.

Congratulations goes to our Women's Blacks who were crowned Div 1 Champs. Well done girls.

Giddy up!
Wayne


WRITE-UPS - 18 SEPTEMBER

2ND'S
| Fluid Recruitment: Men's Division 1
Played Northern AFC at Forrester Park
LOSS 6 - 2


3RD'S
| Back In Motion: Men's Division 2
Played Northern AFC at Ellis Park
WIN 3 - 1

A hard fought and solid performance for the Back in Motion 3rds grabbing a 3-1 win over Northern on Ellis #2. We went into the game with only a squad of 14 after a late withdrawal by two players due to injury and unavailability. We spoke before the game about giving our all for the club, each other, and fighting until the end.
A pretty even first half saw both teams go into the break 1-1. We scored first after about thirty minutes with Jacob Scannell tapping in from right in front to grab his first of the season. Some poor defending in wide areas allowed Northern to equalise almost immediately.

We spoke at halftime about upping our intensity in the second half and working as hard as we could to secure the result. Two quick second half goals effectively finished Northern off around the sixty minute mark. A brilliantly struck free kick by Conrad Sinclair and then a swift counter attack finished off by Jake Gilchrist were the difference.
Northern came close with a few chances towards the end of the half but resolute cover defence, and some key saves by Scott Glover kept Northern scoreless in the second half.

Man of the match - Conrad Sinclair
Never stopped running, a key figure on both attack and defence. Scored his third goal from free kicks this year.


BLACK'S
| Hugh Madden Ltd: Men's Division 2
Played Dunedin Technical AFC at Ellis Park
DRAW 2 - 2

It was a hard fought first game back for the Blacks, back at the home of football and against a Tech team that at the very least were well organised. Both halves saw us dominate possession, attacking relentlessly and with multiple shots we struggled to find the all important back of the net.

The opening goal came from Tech and against the run of play from one of the few counter attacks they managed. Not long after we managed to equalise with Captain Dom using the outside of his boot to put it past the keeper after a great ball from Damo. 1 - 1 at the break the plan was to keep the pressure on and that's what we did. We maintained the majority of possession for the second half but again couldn't turn it into goals. Eventually we earned a pen from an unfortunate hand on ball moment in the box, Alex Black stepped up and calmly slottted it to make it 2 - 1. We continued to dominate and push for the third goal that our play deserved but with time running out Tech took their chance and from a quickly taken free kick scored a 50 yard cracker to finish the game 2 - 2.


BRUMBIES
| Aotea Electric Ltd: Men's Division 3
Played Dunedin Technical AFC Sharks at Ellis Park
LOSS 0 - 3

After a month of lockdown, mainly filled with drinking and "catching up" with uni work, the boys returned to the pitch. This was our first game back on the true home pitch of Ellis park since the preseason, which brought added pressure of maintaining the winning streak the was held at Ellis from last season. Due to a few of the boys choosing the slopes over the pitch this resulted in a small bench. D-Tech came out hot and scored two goals within 20 minutes, then our boys found there feet and held there own for the rest of the game with many opportunities to put one in the net but it wasn't to be. D-Tech then scored on a defensive mishap resulting in the final score being 3-0.


MUSTANGS
| Switchbuild: Men's Division 4
Played Northern AFC at Forrester Park
LOSS 4 - 3

It was like we had just played our first game of the season. A very strange feeling, but great to be back out on the pitch again.

Northern Southerners hosted us at Forrester park, with little subs it was a game of unknown. Fitness was a major concern but we just wanted to play football and have fun. The game started scrappy by both sides. Around 10 minutes in Matt McCann muscled the defender of the ball as he tried to shield the ball out. He turned the ball back into the box for James to slot the opening goal. Unfortunately Southerners reacted fast and equalised about 2 minutes later. Mustangs got straight into them again. James with the ball out right cut in and took a shot at the keeper which was saved. The keeper fumbled it and Matt McCann was onto it and scored a very lucky rebound off his knee! Once again 5 mins later it was 2-2 again. With the mustangs being a bit scrappy the southerners made the most of it and got a 3rd goal to take the half 3-2. 2nd half we seen ourselves at 4-2 down pretty early. Wasn't ideal but we picked ourselves up and battled on. Matt blazed a shot over the bar which should of been a goal, chance missed. Later in the half Pat had a great through ball to take on 2 defenders and slot a great finish to go 4-3 down. Mustangs battled hard but we tired and just couldn't find the equaliser. Big thanks to Alan for kitting up and helping us out.

POD - Haydn Holdsworth


WHITE (FORMERLY FILLLIES)
| Hope & Sons: Women's Division 1
Played Dunedin Technical AFC at Brockville Park
WIN 3 - 2

This weekend the David Browne Contracting RWAFC Black team returned to the football field to take on Dunedin Tech white in a 'friendly' at Brockville Park.

The first part of the game showed that despite a full team turnout, our footballing brains were still in lockdown as we conceded a goal in the opening minute of the game. We struggled a bit with our composure when in possession of the ball and took a while to settle down to play some constructive football. Once we began to find our groove again the team scored some fantastic well worked goals.

Player of the Day Rata Newman


ORIGINALS
| Adams Plumbing & Electrical: Masters 35+
Played Highgate Harbourside at Forrester Park
LOSS 5 - 3


COLTS
| Downie Stewart Lawyers: Masters 45+
Played Green Island AFC Legends at Ellis Park
LOSS 1 - 4


TROJANS
| Connor Consulting: Masters 45+
Played Grants Braes AFC at Brockville
LOSS 3 - 5

The Trojans took on a slick Grants Braes team up at Brockville where conditions were breezy and wet underfoot. With a scraped together 12 men it was always going to be tough to hold out for the full 80 but we still put out a good display. We quickly took the lead through PJ and then soared out to a 3 -1 lead and 2 Pierre Rivolet strikes. Defensive lapses, or a lack of any defence to be fair saw us 3 all at the break. With 2 players crocked by half time, but still able to block a hole on the field the 2nd half was evenly fought but Grants Braes wore us down and we lost 5-3.

POD was Pierre and everyone pretty much played a full game with the long arm of the law Neil Lowden even body slamming an aggressive member of the opposition which was similar to him in action on a Saturday night in the Octagon.
Next week sees Sunday football for the derby for the football purveyor 2:45 at Ellis Park as the stars of yesteryear perform for the crowds, hopefully less than a 100.

POD - Pierre


DRAW for 25 September
2nds:
12.30pm vs Green Island AFC at Ellis Park
3rds: DERBY!!!
12.30pm vs RWAFC Blacks at Ellis Park
Blacks: DERBY!!!
12.30pm vs RWAFC 3rds at Ellis Park
Brumbies:
2.45pm vs Northern AFC Dribblers at Forrester Park
Mustangs:
2.45pm vs Balclutha AFC Reserves at Brockville Park
Women's White:
12.30pm vs Dunedin Technical - Caversham at Brockville 3
Originals:
2.45pm vs Highgate Harbourside at Ellis Park
SUNDAY Colts: DERBY!!!
2.45pm vs RWAFC Trojans at Ellis Park
SUNDAY Trojans:
DERBY!!!
2.45pm vs RWAFC Colts at Ellis Park
Please note the draw is subject to change.
You can find the official draws here:
SENIORS - JUNIOR/YOUTH

UPCOMING EVENTS AND NEWS


Due to COVID and constricted timeframes we have had to rejig and change some events, and unfortunately the Quiz Night and Norm's Bowls Afternoon are casualties.
The following are tentatively booked in:
Sun 3 October, 2pm - 100 Club final draw
Fri 15 Oct, 7:30pm - Sponsors thank you night
Sat 16 Oct, 5pm - Prizegiving - we will only be going ahead with prizegiving if we can have a crowd of 100 and if this is not possible it will be held as a pre-season event.
Another casualty of the current COVID restrictions is the Coastal Spirit U19 tournament -
read more here
.

Dunedin Suburbs Hub Update
The committee carefully considered all aspects of potentially having a combined hub team with ourselves, Green Island & Mosgiel in next year's South Island League.
Unfortunately, when push came to shove, and at late notice, we were informed that we would also have to have a combined hub team in the local premier league. With our first team having to play Fletcher Cup we went very cold, very quickly on this idea as this simply was not an option to us, the committee, the other clubs involved and probably not you and our many loyal supporters and members. All three clubs were unanimous that we wanted to maintain an individual local premier league presence and that was not negotiable.
What has been a positive out of this exercise is the fact that we have built on our relations with both Green Island and Mosgiel, but in the meantime the hub idea in the senior space has been put on the back-burner. If things were to change in the future we may potentially revisit this idea in some form or another.

Changing Sheds Update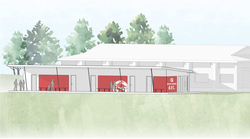 Like everything else, COVID has slowed the progress of our renovation project a bit but PV has redrawn the revised plans and a structural engineer has been engaged for his expertise.
From there we have confirmed another meeting with the boffins at the DCC, with the aim to get the project approved and then next we will get quotes for the revised plans. After that we can apply for some additional grants and look to have this project completed by the start of next season.
Exciting times!

Men's & Women's Prems Head Coaches
Men's
We are happy to announce Terry Boylan as the Men's Prems Head Coach for the 2022 season. Terry signed on for three years as Head Coach in 2020 and we're looking forward to seeing what he and the team will achieve next year.
Women's
We are looking for expressions of interest for our Women's Premier Head Coach position for the 2022 season. With the complete backing of our club behind you and extensive resources we want this outstanding individual to lead our players in the Women's Southern Premiership and Kate Sheppard Cup while also overseeing the exceptional crop of young talent with our current Women's Division 1 league winners.
If this sounds like you please contact Wayne Facer for more information and a job description - wayne@educationenterprises.co.nz, 027 354 6077.
Applications close 15th October 2021.

100 CLUB WINNERS - 21 & 28 AUGUST
| | | |
| --- | --- | --- |
| | 21 Aug 2021 | 28 Aug 2021 |
| Prize | Ticket | Ticket |
| $100.00 | 92 - Swanni | 17 - Hugh Madden |
| $50.00 | 33 - Jez | 43 - Buzz |
| $50.00 | 100 - Team ACC | 59 - Hamish & Dad |
| $25.00 | 63 - Shirleen P | 70 - Viv Pryde |
| $25.00 | 6 - Phil & Richie | 18 - Una |
| $25.00 | 55 - Matt McCann | 59 - Hamish & Dad |
| $25.00 | 82 - Bucky | 10 - Brownie |
| | | |

CONGRATULATIONS!