The season keeps rolling on and it is great to see both seniors and juniors enjoying game days with each other and the opposition.

A big congratulations goes to Tom Stevens who played his 100th senior game for the club on Saturday, we look forward to many more to come young Tom. We also wish to thank the Otago Community Trust for our successful $3000 grant for sports equipment which we will purchase from the Otago Sports Depot.

Wayne and Mark
Co-presidents

MEN'S PREMS
| Amalgamated Builders Limited: Southern Premier League
Played Mosgiel AFC at Memorial Park
LOSS 1 - 0

Mosgiel have a very strong side and as reigning champions we did give them the respect that they deserved, only before the game. The game started well for us with a lot of inter changing play as we broke up Mosgiels attacks consistently and we counter attacked quickly, just lacking a finish in the final third.

We dominated play for the first 20 minutes with our endeavour and high work rate which was pleasing to see, the game was played with an intensity and a real commitment from both teams, this was evident as we received a booking early in the game, we conceded a goal in the 27th minute to a good bit of play by Mosgiel, we didnt press the ball which in turn gave the players time to have a third man run which resulted in a cross to an unmarked player in the box who headed into the goal unopposed. Mosgiel started showing their true class and started playing some good football shifting the ball at pace and moving us around the park quickly, the game changer came when a Mosgiel player got sent off for a reckless challenge, just before half time. This I thought would change the game.

After half time I asked our guys to squeeze high and put Mosgiel under pressure to win the ball high and counter attack quickly. Unfortunately we didnt do this and in doing so we stretched ourselves too much leaving ourselves vulnerable at the back which had Mosgiel counter attack us and nearly score 3-4 times, we were lucky that through either poor finishing or our recovering defenders or our GK Tom Steven's saved all of those counter attacks. The final result was a fair reflection of where we are as a playing group, we have the passion, the desire, the work rate, and the will to win, we will get better, we are still learning as a group and just need to learn football smarts, take our learnings from training and apply them!

Today we learned a lesson from the reigning premiers of what it takes to be champions, we are close but need a few things to go our way out on the pitch. We had a couple more injuries from today with Mike Sannum picking up a rib injury after playing well, Matt Cordelle had his first start with the 1sts and acquitted himself well, Reid Hulleman came on as well with his first appearance this season, Curtis Day had another good game. The man of the match though goes to Tom Steven's who playing in his 121st game was a tower of strength today, on numerous occasions he played his role as the last line of defense really well and saved some blushes for our defenders at times. It is a testament to Tom to be recognized at the club with an accolade of over 100 senior appearances played. We have a bye this week so it gives us another chance to rest those injured players so we can go and have a good crack at Caversham the following week.

POD - Tom Stevens

WOMEN'S PREMS
| Brandwell Moller: Women's Premier League
BYE

2ND'S
| Fluid Recruitment: Men's Division 1
Played Caversham AFC at Hancock Park
WIN 2 - 3

In a game that was played in good spirit yet hard and competitive, the game ebbed and flowed for the full the 90 mins and to be fair no team deserved to lose. In a good "squad" effort all 13 players contributed to gaining the 3 points. After conceding in the first 5 mins, Yuni got the first of his brace on 7 mins. A slug fest then ensued for the next 30 mins. On 37 mins Yuni got his second and it looked as if a half time 2-1 lead was in the offing. Not to be. Caversham won the ball on 45mins and swept the length of the pitch where Tim Cook scored with a well – timed volley.
With both teams playing good football it looked as if the points would be shared until, in the 87th minute Yuni got himself into the box, and was contacted enough to be brought down for the ref to award a penalty. Tom Bealin stepped up and drove the ball past the keeper to give us a 3-2 lead. A lead that was well fought for until the end of the game. As a collective, the squad played well. All players deserving a pat on the back.
Special mentions go to Irish, who played a good combative midfield role.

3RD'S
| Back In Motion: Men's Division 2
Played Mosgiel AFC at Memorial Park
WIN 1 - 5

The 3rds had a comprehensive 5-1 win vs Mosgiel 3rds at Memorial Park this weekend. A feisty and fiery first half saw both teams battling hard against each other. We took the lead early on with a touch and go penalty given after one of our players was dragged down in the box. The penalty was coolly slotted home by Dom McPhee putting us 1-0 up. The home team coach wasn't happy with the decision and emphatically let me know. Mosgiel then spent the rest of the first half dominating both possession and territory before being awarded a penalty of their own on approximately 30 min mark. This was brilliantly saved by our keeper Dan Baker who guessed the right way and kept us in the lead. Mosgiel continued their domination before we finally conceded after a turn over just outside the box lead to them taking a well placed goal in the top right corner. We were then lucky to keep them out for the rest of the half eventually going into halftime 1-1.

I made a few changes at halftime in an attempt to stifle Mosgiel's growing confidence and dominance. A passionate speech at halftime by our captain Patrick Burtenshaw coupled with the changes I made had the desired effect. We were simply unplayable in the second half. We dominated them all over the park. Starving them for most of the half of possession and territory. A follow up from a blocked shot saw Jack McFarlane put us up 2-1 after about ten in second half before a well taken corner by Jack was turned into their own net putting us 3-1 up on about the Fifty-five minute mark. Another corner shortly after was finished brilliantly by Saeed Omidwar who scored an amazing chest high volley which absolutely stunned the crowd and lead to some enthusiastic celebrations from players and supporters alike. Ben Williams-Davies finished the scoring at about the seventieth minute mark after an end to end counter attack. Mosgiel had few chances and were restricted to long shots and a few corners in their attempt to make a comeback but our defence and goal keeper weren't letting them have a scrape.
A slow first half but a brilliant second half was the story of the day. Scorers: Jack McFarlane 2, Dom McPhee, Saeed Omidwar, Ben Williams

POD - Jack McFarlane

1888's
| Aotea Electric Ltd: Men's Division 3
Played Otago University AFC at the Turf
WIN 2 - 3

This week we headed to the turf to face a strong University team half our age. We were slow to start, not being used to the turf, but we grew into the game and both teams had chances. Eventually we went ahead though to a well taken penalty by Damo after he was taken out in the box. Not long after one of the most important moments ocurred in the match. One of the Uni players repeatedly abused Hamish who issued him a yellow. 5 minutes later he pulled Damo back and prevented him one on one with the keeper, this saw a second yellow card and the subsequent red was issued. The abuse Hamish received from the Uni players and supporters was disappointing and I'm sorry that I didn't warn Hamish what this team and supporters were like, though this was one of the reasons I asked him to ref. Uni equalised from a corner. With a one man advantage we then took control and the lead was soon restored by a screamer from Matt. We created quite a few chances but couldn't quite put the game to bed and that nearly cost us when Uni capitalized on a mistake at the back. A tense finish then ensued but we took all the points after a bullet long range shot from Matt was spilled by the keeper and Damo pounced to win us the game 3 - 2.
POD - Matt Hodgson

MUSTANGS
| Switchbuild: Men's Division 4
Played Grants Braes AFC at ElliscPark
DRAW 4 - 4

WHAT A GAME!
The game had the privilege of playing on Ellis 4 (masters pitch). Which pleased many people as it meant a lot less running! But unfortunately that didn't turn out to be the case for the first 15 minutes. Grants Braes had us run ragged in the middle and scored a screamer from outside the box. We couldn't argue it, great goal! Mustangs doing what we do best, we picked ourselves up and settled down. Andy Lyndom got us 1-1 with a nice low shot to the corner pocket. Back in the game we played the better phases of football but the games nature saw it go 2-2, 3-3. Action packed game! Andy Lyndom bagged himself a hattrick and the game was riddled with injuries.

10 minutes to go saw a big drive forward from our boys knowing how much we wanted to win. We got a free kick on the edge of the box. The ball come soaring in and took a bounce off a knee. This allowed the Mustang acrobatic Eddy to do a nice bicycle kick to bang it in 4-3. Absolute chaos at Ellis. Unfortunately for us that was very short lived. I scream "park the bus". As they ran straight through us from kick off to equalise.

Its a cruel sport! But a great day of football and lots of fun for everyone envolved and that's why we love the game.

POD - Andrew Lyndom

HOTSPURS
| Education Enterprises: Men's Division 4
BYE

RESERVES
| David Browne Contracting Ltd: Women's Division 1
Played Green Island AFC at Ellis Park
WIN 8 - 1

RWAFC RESERVES played Green Island Reserves on Ellis Park 1 in calm and warm conditions on an overcast Saturday afternoon. A quick reshuffle to the GI line up just on kickoff to try and shut down the speed of Kate on the wing seemed to work for for a while but unfortunatley they forgot about Juliette up top who would go on a goal scoring spree, banging in 5 goals in the first half to give us a 5-1 lead at the break. We added 3 in the 2nd with Sophie deciding to chip the keeper from outside the box, Kate would volley 1 home from just inside the 18 to make it 7-1 and in search of our 8th, Tony would make a master play and tactical substitution with 10mins to go by bringing on our powerhouse centre forward Zlatan 'Crystal' Ibrahimovic. After having several balls put in behind the backline to run onto with no luck eventually the ball was driven hard and low at her feet at the top of the 18, with great calmness the ball was brought under control as she touched, turned and smashed it home into the bottom corner past a diving Green Island keeper to screams of excitement streaming from the Roslyn dugout. POD would be the hard working Elly Tombs at fullback. Well done to everyone today in a well played match. Next week Dunedin Tech Whitez.

POD - Elly Tombs

DERBY MATCH: Southern Wide Real Estate: SHETLANDS vs Hope & Sons: FILLLIES
| Women's Division 2
Roslyn Wakari AFC Shetlands vs Roslyn Wakari AFC Fillies at Ellis Park
FILLIES WIN 2 - 5

Fillies Version:
The Fillies had their derby game against the Shetlands and where lucky enough to play the late game on the # 1 pitch. The Fillies again had to rely on extra numbers to fill the squad but luckily enough the Prems had a bye creating a special moment for our striker Kendal getting to play with sister Jordyn for the first time in 10 + years, also a big thanks to Hayley Julian for stepping in last minute with the gloves after our keeper pulled out sick, we were grateful for the help from these 2 ladies and your experience with our younger players is invaluable.
With a healthy crowd overlooking it was a very even contest to start with, both teams showing a few nerves that only derby games can produce. The first goal came from our corner deflecting of a Shetlands player to put us 1-0 up, not long after the Shetlands evened it up when our keeper got caught on the ball trying to clear it just before the half we managed to get back in front when the Shetlands keeper fumbled the ball and like a good striker should Kendal followed it in to put us 2-1 up at the break.

The 2nd half again started very even until 20 minutes in when the Shetlands hand balled in the box finally giving TVG an excuse to blow his whistle, Caitlin stepped up and slotted it to make it 3-1, after that I think the girls seemed to take a bit more control mainly down to young legs and fitness and would score another couple very quickly, Hannah shooting from distance and Kendal being rewarded again with an accurate finish to give her a brace for the day, the Shetlands would get 1 back to make the final score 5-2, great result, great for our confidence and very proud of the girls.
Thanks to TVG for reffing the whole game, he's probably coached every player on the park and most of the side-line, legend. POD Alyssa Landrebe for consistently shining in her new role at centre back and an unbelievable clearance off the line in the last few minutes.


ORIGINALS
| Adams Plumbing & Electrical: Masters 35+
Played Mosgiel AFC at Ellis Park
LOSS 2 - 3

No one can forget the horror of the beach assault scene at the start of Saving Private Ryan - countless bodies sent tumbling to the ground as any pre-conceived plans and tactics were thrown out the window at the hands of a rampant enemy. Ellis Park #4 is admittedly a world away from Omaha Beach, but the opening minutes versus Mosgiel were just as horrific; their direct play and massive mortar-shell throw-ins wreaking havoc and forcing mistakes that saw us 3 goals down inside 5 minutes and close to waving the white flag.
Fortunately though, we managed to start fighting back. We started to impose ourselves from set-pieces as well, and scored directly from a Marcus corner, before Nic flashed down the flank and beat the keeper at the near post. Suddenly there was only a goal in it and we didn't want the halftime whistle to come.
The second half was a good tussle, we had plenty of chances although Mosgiel missed a penalty which could have sealed it for them. No more goals though, so much like Saving Private Ryan, the ending was bittersweet - a 3-2 loss, our fourth loss of the season but they've all been by a single goal. Cheers again to Smarty, both teams appreciated the reffing.

POD - Keiryn

COLTS
| Downie Stewart Lawyers: Masters 45+
BYE

TROJANS
| Connor Consulting: Masters 45+
Played Grants Braes AFC Legends at Ocean Grove
WIN 1 - 2

The Trojans made it two wins in a row out at the Sandpit v Grants Braes. A cast of 17 took on GB with PJ Turnbull opening the scoring from a well directed corner and Fast Tony burning down the wing to put us two up by half time. GB scored mid way through the second half and as usual it was all hands to the pump to hold on for a win and a push for the top 4.

POD - Andrew Dawson

WHAT ELSE

UPCOMING EVENTS
7 AUG: RWAFC LEGENDS EVENING - Friday 7:30pm - Robbie Oram
22 AUG: INTERNATIONAL FESTIVAL - Saturday 7:30pm
11 SEP: QUIZ NIGHT - Friday 7:30pm
27 SEP: 100 CLUB DRAW - Sunday 2:00pm
10 OCT: PRIZEGIVING - Saturday 7:00pm
13 NOV: RW STABLES TRUST GOLF TOURNAMENT

SPONSORS NIGHT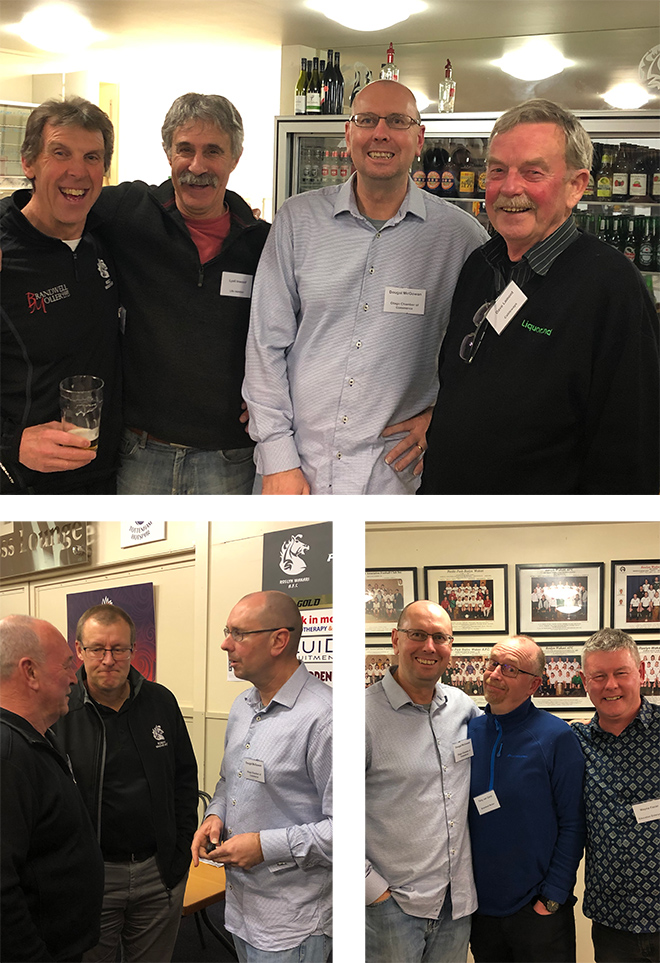 LEGENDS NIGHT: ROBBIE ORAM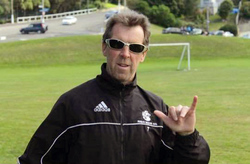 We look forward to a good crowd for this Friday's legends night starring our very own club captain and local identity Robbie Oram from 7:30pm Friday.

PATRON PRESENTATION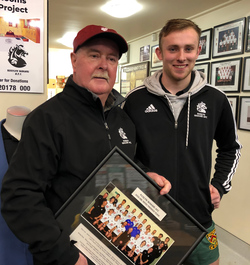 First team member Nathan Wilkie presented club patron Larry Markham with a framed 2020 first team photo on Saturday for Larry to mount in his lounge.

INTERNATIONAL FESTIVAL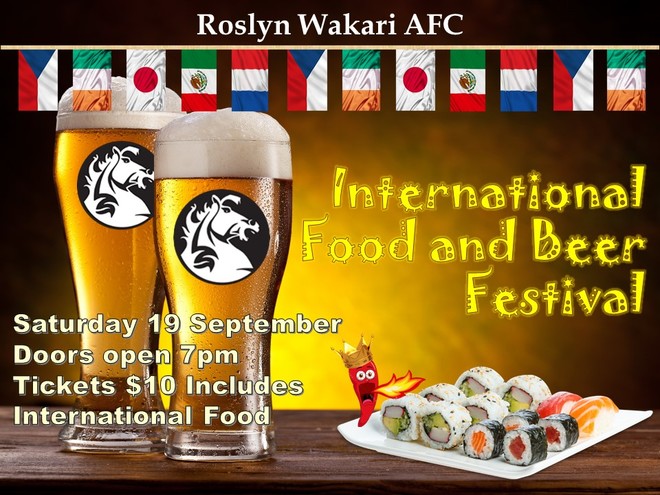 Tickets are now available for this years 'beerfest' on Sat 22 Aug for $10 each from the club.