Saturday saw another packed and excited clubhouse after another busy weekend of football.

Unfortunately we had a couple of deferrals in Div 2 & 3 that were COVID related but that's the way of the world at the moment and we just roll with the punches.

Work has started on the gym floor replacement under the watchful eye of Colin Thom and Robbie Oram. We look forward to the continued progress here as this is Stage 1 of our new changing rooms upgrade, which is scheduled to be completed by the end of 2023.

As usual, our club can't run without the many volunteers we have. On top of others recently thanked, I would like to acknowledge the recent efforts of our valued committee member Tom Stevens who is keeping our social media profile fresh and everything in that world well away from us middle aged folk who find things like that a bit scary.

Giddy up!
Wayne Facer
RWAFC President

WRITE-UPS - 7 MAY
MEN'S PREMS
| Amalgamated Builders Limited: Southern Premiership
Played Wanaka AFC at Ellis Park
WIN 2 - 1

21. Kavindu Bhagya. 3. Ben Sinnott. 4. Mitchell Gray. (C) 5. Luke Williams. 7. Shay Thom. 9. Sam Cosgrove. 10. Finn Bielski-Cook. 11. Arnon Tapp. 12. Jack McFarlane. 13. Ben Williams-Davies. 14. Nathan Wilkie. 16. Zac Baird-Hodge.
17. Harley Rodeka. 19. Luke Clissold. 20. Oscar Black.

This week we welcomed back our Captain Mitchell Gray along with Oscar Black and also out of his sick bed Kavindu Bhagya, a new signing midweek with our very own Premier Woman's head coach agreeing to sign for us in Arnon Tapp and from the Fletcher Cup Ben Sinnott and Ben Williams Davies join our match day squad.

A lot of changes this week but ones forced on us with on going injuries and Covid hitting our squad. With last weeks loss still reflective on the group, we planned to play a more possession based style playing out from the back and through the thirds, which has been the plan since day one.

The game is played at a very high level from both teams playing their own brand of football, the only downfall is the state of our home pitch. We have a lot of transition moments ending in a high turn over rate from both teams with final passes or the final touch letting both teams down. We are creating a lot of scoring opportunities but are just not finishing them off. When we do score it is through Sam Cosgrove from a turn over and an opportunist strike which should hopefully calm us down and let us now play with a bit more control.

Wanaka keep pressing looking for opportunities which we do give up to them. Eventually Wanaka score from the penalty spot before halftime from to be honest I'm still unsure who actually touched or pushed the player in the box. This sets us back a bit but takes us into halftime with a job to do in the second half.

I ask the guys to be more composed and more ruthless in the attacking third, also for us to have a better shape about us. We come out slowly to start off with as Wanaka press us really well, and try to catch us out with turnovers once we calm down we get back into our groove, I make a couple of positional changes with Harley Rodeka coming on to give us a bit more experience and calm and also bring on Ben Williams-Davies to add some fresh legs. Through Harley we score a well deserved winner with him wrong footing the keeper through a turn over that he flicks the ball into the right hand side of the goal.

We keep creating more chances as does Wanaka. Eventually the final whistles sounds, much to our pleasure, with us playing an extra 8 minutes of added time! For me today we retain the Blair Davidson shield along with a very well earned and needed result. Today all players did really well our mantra of WE BEFORE ME is evident more. The debutants in Arnon Tapp our Woman's Premier head coach, and Ben Williams Davies played really well. As stated above I could individually go through each player but they all know who did well. Harley again proving his value to this group with his winner.

Player of the day was Nathan Wilkie who has had an indifferent start to the season but has turned this all around with his ongoing positive energy and hard work at trainings paying off. His understanding of his role was evident in his link up play and unselfish running on and off the ball which was a delight to see.

We go into the Chatham Cup this week against Gore Wanderers with some players getting a rest and others being promoted from the Fletcher Cup into our first team. We have a great balance of players from both sides playing at a great level at the moment so competition for places is very evident.

Regards
Terry

WOMEN'S PREMS
| Affinity Mortgage Advisors: Southern Premiership
BYE

2ND'S
| Fluid Recruitment: Men's Division 1
Played Northern AFC at Forrester Park
WIN 0 - 3

The Fletcher Cup squad played a strong Northern team at Forrester Park. The goal for the week was to be more consistent and start in a positive and controlled manner. From the start we dominated and put together a superb team performance. Ben Williams Davies scored his 6th goal of the season in the 29th minute with a clever finish. Irish added a penalty 5 minutes later to go in 2 nil up at half time. The second half was a continuation of the first with the team dominating and playing some superb attacking football. Numerous changes were created and Corey Reid added a third after 62 minutes to close the game out.
The team put together their best performance of the season and their play was at times a delight to watch. All 14 players contributed to a strong team performance to make it 3 wins out of 3 to begin the season.
Lance
Fletcher Cup Coach

3RD'S
| Back In Motion: Men's Division 2
vs Balclutha AFC in Balclutha
DEFERRED

BRUMBIES
| Education Enterprises: Men's Division 3
vs Green Island AFC Sharks at Ellis Park
DEFERRED

MUSTANGS
| Switchbuild: Men's Division 4
Played Northern AFC Lawnmowers at Ellis Park
LOSS 2 - 5

COWBOYS
| Men's Division 4
Played Northern AFC Southerners at Brockville
WIN 7 - 1

Joseph Bahr (2 goals, MVP), Jonty Cameron (2 goals), Hamish Mulvey (2 goals), Nick Cooke (1 goal), Ryan McBride , Cillian Butler (missed a penalty so will be doing the nude run), James McConchie, Jack Healy, John-Ross Moyer, Lachie Stokes, Will Hausmann, Tom Chisnall, Nick Van Der Heyde, Ryan McBride, Mark Kliegl.

We played at Brockville at 12:30, were up only 1-0 at halftime, then going on to bag another 6 goals in the second half. End result was 7-1.

RESERVES
| David Browne Contracting Ltd: Women's Division 1
Played Otago University AFC at Logan Park
WIN 1 - 4

The Women's Reserves took on Uni 3rds down on a sunny, warm Logan Park. The unseasonal heat made it tough going for the girls. A very even game with both teams having chances in the first half. Neve breaking through the Uni defence and scoring was the difference at halftime.

After the break Uni quickly equalised. Two quick hand balls in the Uni box awarded us penalties which Charli and Aliya calmly slotted home to give us the lead and some daylight. Uni were lucky to still have 11 on the park. They pressured us right to the end but Avi put the game to bed with a great through run, around the keeper and in the net!
4 - 1 it finished. Fantastic result well done girls.

POD Aliya Drake for a solid skillfull performance in defence.

SHETLANDS
| Property Brokers: Women's Division 1
Played Dunedin City Royals FC Red at Ellis Park
WIN 14 - 1

After hurting a bit from a missed chance last week, the team came out of the blocks with a very determined attitude this week. The scoring chances came early again this week with the girls capitalising on some great attacking opportunities. The Dunedin City Royals at no chance rolled over with some quick players creating chances of their own. However, with some strong and deliberate defence they were not able to finish off. As the game wore on, the Shetlands grew in confidence, constructing more chances and using the whole field with 360-degree vision. The most pleasing aspect of the game was the way the team played together, communicating, passing, and always looking for the next play which is exactly what we discussed before the game. Our shot to score ratio was possibly the highest we have ever had, with very few shots missing. Special mention to Kim Fraser who was devastating with 6 goals, her shooting was accurate, and on more than one occasion passed to a player in a better position when she could have taken the shot herself which shows the culture this team has. Other goal scorers were Kelly Latimer (3), Belinda Hunsche (2), Mel McAtamney (2), Kushla Glover (1)

POD - Kelly

ORIGINALS
| Hope & Sons: Masters 35+
Played Mornington AFC at Brockville
WIN 7 - 0

The Hope and Sons Originals made it 2 from 2 with a 7-0 demolition of Morningside in the battle of the skateboard parks. With Feargal Sharkey off on a national tour, Ed Sheeran's long lost cousin took the whistle and let the game flow, not bothering to pull up trivial things like foul throws or neo-nazi abuse. To be honest the lads strolled it, Fozzerlli the master tactician lulled them into a false sense of security by tanking the pre-season game and stacked the bench just to rub it in when they started to tire.

Even though the lads didn't need to get out of 2nd gear they put on a clinic; Norm and Matty scored a couple of worldies, Damo got a brace on debut (a fitting tribute to CR) Bruno Lyndom, Hayden Overmars and Dave Rock the Casbolt rounded out the scoring controversially with Norm and Sauce questioning whether it was over the line before the Mornington hand batted it back. This did avoid any penalty controversy (who would have taken it? all bribes to Fozz). Brownie showed massive respect to his old club by refusing to score. Ian Cannavaro-Baresi lead superb back 4 that never looked like conceding, Man City are rumored to be looking at the ageless centre back. Roll on GI next week!

POD - Dave Casbolt

COLTS
| Downie Stewart Lawyers: Masters 45+
Played Grants Braes AFC at Ocean Grove
LOSS 3 - 1

Ouch…….the pack of Colts second match of the season saw us travel out to the beach, unfortunately for us Benno's spare Surfboards would have been a better equipment choice for the lads.

We struggled throughout the match to connect and fell into an uncharacteristic, and awfully unsuccessful push and rush mode. The Grant Braes boys seized on this and played a very Colt like passing game. They made better use the of the space on the big field, and of the ideal football conditions to win the match 3-1.

We managed a couple of highlights, Merce saving a penalty, the introduction of the youthful and industrious Marcus Glover, the return to fitness and form of Keriyn Scott and another well taken goal to Bazza Still. Also, I'll pass on my thanks to Scotty Mason for taking the whistle for the 2nd half, I know how much this boy loves his footie and he did a grand job, cheers Scotty.

We'll put this little hiccup behind us and look forward to playing the 35+ Trojans in our derby match this coming weekend.

Player of the day - Merce.
Goal - Barry Still

Get up you Colts, and Giddy up!

TROJANS
| Connor Consulting: Masters 45+
Played Dunedin City Royals FC Lions at Ellis Park
LOSS 1 - 4

The Trojans hit the ground running with a lot of gusto and promise and got to 1 all V Dn City Lions thanks to a Pierre Rivollet strike to even things out.
New recruits Craig Johnston & Davis Cross were very excited about this game and pulled out a big one against this team impressing in goal and outfield respectively.
The second half saw the strong Lions team belt in 3 quick goals in a mid second half burst and take away a 4-1 win.
All efforts now focus towards next weeks main game for the club, the do or die derby on #4.
POD Craig Johnston.


BITS & BOBS

2022 SUBS

The 31st of May is the last day to pay before your subs increase by 10%!
Senior Men and Women - $270.00
Students and Unwaged - $240.00
Youth / School - $110.00
* Social member - $40.00
Payments can be made in instalments or in full. To arrange instalments please contact club Treasurer Ian Sawyer at
rwafc.nz@gmail.com
Please pay via direct debit: 03 0883 0020178 000 referencing your name and team.
* Social Members
Just a reminder that for licensing requirements we need all of our supporters to be a social member of the club, similar to an RSA, working mans club etc. The cost of this is $40 per season so please help us out by paying this early on so as we can serve you a beverage.
JUNIOR TEAMS SPONSORSHIP
We have so far got 10 junior teams sponsored as below:
Hue Decorating 6th Grade Ponies
Anderson Lloyd 6th Grade Zebras
Inquisit 7th Unicorns
Pro Flow 8th Grade Broncos
RWAFC Originals 10th Grade Alicorns
Pro Flow Plumbing 11th Grade Trotters
Wilkinson Rodgers Lawyers 11th Grade Pacers
Hue Decorating 13th Grade Gallopers
Indian Save Mart 13th Grade Cavaliers
If you wish to support a team at $250+ GST please contact club president Wayne Facer on 027 354 6077.
100 CLUB FUNDRAISER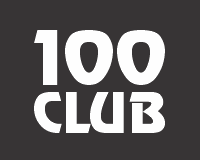 This is a fundraising exercise but with a chance of winning. There are 100 x $100 tickets. Each ticket is in EVERY draw, there being 91 draws in total.
There are
9 Weekly Draws
for: 4 x $25, 2 x $50 and 1 x $100.
There is then a
Final Sunday Draw
of: 12 x $25, 10 x $50, 5 x $100 and 1 x $1000.
For a Total Prize Pool of $5000.00.
The first draw is expected to be on 2 July 2022 and the final draw on Sunday 3 September 2022 (2pm). Weekly draws occur at the club after Player-of-the-Day speeches. Afternoon tea is supplied, and the bar will be open, at the final Sunday draw.
All proceeds go back to the club – this year to contribute to the cost of a new gym floor.
For tickets, see Grant Mercer, or text 027 281 5120 if interested.
CLUB MERCHANDISE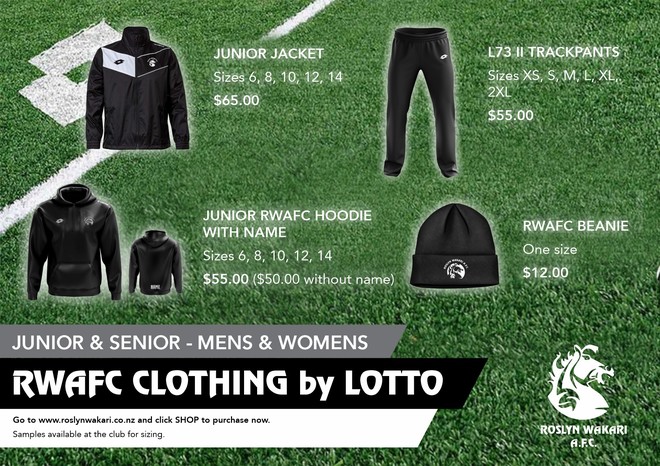 Don't forget, you can purchase official RWAFC merchandise directly from our shop on the Lotto website
Off the field: hoodies, sweaters, training and polo shirts, track pants, jackets, caps and beanies.
On the field: playing shorts, socks, shin guards and stays and balls.
Ranging from junior to senior sizing.
Check it out HERE

As proud supporters of RWAFC at both the junior and senior levels, Richard and Alix are the team behind OutreachCRM.
OutreachCRM provides simple online contact management software solutions for small business, keeping track of your contacts, clients, customers, members, donors, jobs, orders - whatever contact information you need to manage.
If this sounds like something your business or organisation needs then give Richard a call - 021 276 4960 or
click here to visit the website
.