Our Women's and Men's Prems teams had comfortable wins in their respective cup's and we look forward to our next opponents in these knock out tournaments.

Progress on the gym floor replacement is well advanced thanks to Colin, Robbie and their helpers and we look forward to supporting them as we can and thanks to those that assisted on Sunday morning.

The club mourns the loss of past president and life member Ernie Westeneng who recently passed away.

Junior Co-ordinator
We are on the look out for a 2023 Junior Co-ordinator so please let us know if you are interested in this position. More details to follow.

Thanks!
A big thank you to Blackie our bar manager. Blackie orders the refreshments that keep us hydrated at the club and keeps the bar running. He also sorts the bar staff to assist running the bar during the season and for functions.

Giddy up!
Wayne Facer
RWAFC President


WRITE-UPS - 14 MAY

MEN'S PREMS
| Amalgamated Builders Limited: Chatham Cup
Played Gore Wanderers AFC in Gore
WIN 0 - 6

21. Kavindu Bhagya. 2. Michael Sannum. 3. Ben Sinnott. 4. Mitchell Gray. (C) 5. Luke Williams. 6. Sam Mepham. 7. Shay Thom. 9. Sam Cosgrove. 11. Corey Reid. 12. Jack McFarlane. 13. Ben Williams-Davies. 14. Nathan Wilkie. 17. Harley Rodeka. 19. Luke Clissold. 20. Oscar Black.

An away fixture against an unknown team that we as a club have never played against in Gore Wanderers which is the start to our Chatham Cup journey. We meet at our base the softball club rooms to go over our team talk etc before traveling down. We welcome back Michael Sannum from his 1 match suspension and also Sam Mepham from Covid, we also give Ben Williams-Davies a start.

The game starts at a frantic pace as we look to try and put Gore on the back foot early, but our shape isnt working so we look to change this and once this is done we start to get on top of a very resolute Gore Wanderers. We have some early chances but unfortunately we don't capitalize. Once we do score this is through Luke Williams who has a cross come shot that deflects of a defender and into the goal. We then start to stretch Gore out wide and start to get more controlled possession with both Luke Williams and Michael Sannum getting forward and delivering telling crosses giving Gore a lot of headaches. We score again through Nathan Wilkie but unfortunately It is ruled out through Shay Thom being in an offside position. When we finally score our second it is through Nathan Wilkie from the penalty spot, the penalty was for Wilkie getting fouled when through on goal getting hit late after getting a shot away. Wilkie calmly scores giving us a deserved 2-0 lead. Our third goal is scored by a cheeky back heal by Ben Williams-Davies while in the six yard box his calmness under pressure was rewarded with his back heal. We sub our captain Mitchell Gray just before halftime with a head clash. Young Corey Reid comes on and plays at right back and Luke Williams switches to centre back.

The second half starts with us scoring again through Ben Williams-Davies again through a well worked and patient build up with the goal being well scored. The next two goals go to Nathan Wilkie for another great display off playing as the 9. His perseverance and determination and finishing is evident with both goals well finished. We bring on Ben Sinnott for Shay Thom and also bring on both Luke Clissold and Harley Rodeka for the two Sam's in Cosgrove and Mepham. We dominate the last 30 minutes of the game with controlled passing and movement on and off the ball.

Ben Sinnott and Corey Reid played well when coming on as subs, Ben Williams-Davies does well for his first full game. Michael Sannum is his normal reliable self as are all the players! The front three of Sam C, Wilkie and Ben were busy all day. The midfield was excellent in Shay, Sam and Jack. The back four in Luke, Mitch, Oscar and Michael then Corey were solid. Kav in goal was excellent directing play from the back. The subs that came on all made an impact.

Man of the match was Nathan Wilkie for his all-round ability to get others into space and also lead our line is continually showing with our results. Plus to score a hat trick is excellent as well! We go again this week resuming the league and also playing another away fixture this time in Invercargill against Queens Park.

Regards
Terry


WOMEN'S PREMS
| Affinity Mortgage Advisors: Kate Sheppard Cup
Played Northern AFC at Forrester Park
WIN 0 - 5

2. Saffron Hare, 3 Sophie Wylie, 4. Jemma Wilson, 5. Francesca Traini, 6. Holly White, 7. Amelia Newlamds, 8. Alex Maffey, 9. Sophia Body, 10. Emma Black, 11. Sam Grey, 12. Kate Watson, 14. Aliya Drake, 16. Neve Darlington, 17. Rebecca Johnstone, 21. Tessa Nicol

Goals - Emma Black, Jemma Wilson x2, Holly White, Sophia Body
Player of the Day - Sophie Wylie

Going into the cup game this week missing some key starting players, along with a few girls recovering from covid etc, there were some changes in the lineup with a few playing out of their usual positions. We started off, giving Northern some unnecessary chances but our back line held their own and did well to shut them down. A fantastic series of saves from goalkeeper Tessa when Northern had a shot and a few follow ups, with Northern for sure having improved over the first round. With the opposition playing quite a crowded game, we struggled to not do the same and lost our space a bit. Many good balls were put through down the wing resulting in a few unsuccessful but close connections from crosses along with a few chances off some great corner balls by Amelia Newlands but no success. A fantastic ball slotted through to Emma Black and a great finish gave us our first goal in the 16th minute. More chances for both teams were had, some great tackles and runs forward from our centre backs, Sam Grey and Kate Watson stood out, bringing the ball up the pitch. RJ pressing high up into the pocket pressured northerns defence and later on a well called penalty was awarded to Roslyn. Calmly slotted in by Jemma Wilson, this gave us our second goal about 15 minutes before half.


Half time chat was over and we went into the next half with higher expectations set and more want for the ball.

Our fullbacks Saffie Hare and Jemma Wilson constantly drove forward to create more chances, there were some more close chances off crosses, specifically from Emma with a few close headers. Frankie and Sophie worked well covering and holding in the midfield and backing both being strong defensive players. As the game progressed it became more physical and with a strong bench we had Holly White come on to score our third in the 77th minute. In the last 10-20 we played hard and with some more fresh legs coming on such as Aliya Drake, Neve Darlington and Sophia Body, we kept Northern within their own half, coming away with 2 more goals in the span of 2 minutes. Jemma with her second of the day in the 87th and Sophia finishing off the game well with a final goal in the 89th minute. A much better second half for us and we look to come out firing next week as we take on northern again at Ellis, having the second round begin.


2ND'S
| Fluid Recruitment: Men's Division 1
Played Green Island AFC at Ellis Park
WIN 2 - 1

Another top week of training saw the Fletcher Cup lads take on Green Island at Ellis Park. The team understood they were in for a tough and physical encounter. The first half was a battle and Roslyn tried to play the better football. The lead was taken with a beautiful passing move from the back to the front and Shamal finished neatly into the bottom corner. We started the second half well and created several half chances. GI equalised when a fortunate long ball found its way through and they slotted past Tom in goal. Roslyn are made of stern stuff and have a never say die attitude that saw the team take the lead again within 5 minutes. Hamish finished a great passing move to put the team up. Roslyn then managed the game very well to take the 3 points. A great gutsy, hard won victory that was down to their ability to fight non stop throughout the game. Great games were had by Tom, Josh, Joe, Irish and Hamish.
Lance
Fletcher Cup Coach


3RD'S
| Back In Motion: Men's Division 2
Played University AFC at Ellis Park
LOSS 1 - 6

It wasn't from a lack of trying that we were humbled, but, rather, a lack of organisation and preparation. We managed (thankfully) to cobble together a side after this weeks disruptions with covid, and illness, again affecting our build up.
We were able to be competitive for significant portions of the game but not competitive enough throughout the whole of the match. Uni 5ths are the current back-to-back champions of Div. II. They have been able to field a core portion of their side for a number of years, and it showed. Their combinations and movement were difficult for us to match.
At 2-0 down at halftime. I was still confident of our ability to still challenge as we had had several promising attacking opportunities that on another day we may have converted. I encouraged the lads to remain focused, keep working, and don't give up.

Although we never stopped trying we were unable to build on our momentum as fitness began to take its toil and we dropped off considerably. We did manage to get one back late on through a well worked move out wide brilliantly finished by a hard-working Jake Gilchrist. A mere consolation in a 6-1 drubbing.
I'm committed to the process, and I've asked my players to also be committed. A challenge, but one I hope we rise to.
Huge thanks to TVG for refereeing.

POD – Jake Gilchrist


BRUMBIES
| Education Enterprises: Men's Division 3
Played Dunedin City Royals FC Weasels at Tahuna Park
WIN 0 - 6

As the Dunedin weather caved in, the rain sprinkled down on Tahuna Park. Yet the weather did not deter the Brumbies from all their passion, looking for 2 wins in a row. After a bit of back and forth the game opened up down the left hand side with a cool calm collective finish from left mid Hanlon. Minutes later this was followed up by an own goal after a lovely volley on the edge of the box by Luca. Another nice finish and an incredible weak foot finesse later we walked into the half 4-0 up. With the rain continuing to fall so did Brumbies dominance. After a cheeky through ball chip and a well placed penalty the game ended 6-0. Overall the game was an absolute run through and the weasels did not stand a chance. The Brumbies are now continuing their March to the top.


MUSTANGS
| Switchbuild: Men's Division 4
Played Northern AFC Southerners at The Gardens
LOSS 4 - 2

Mustangs in much need of a win we travelled over to student ville to play at the gardens. Yes the rumours were true, the cricket pitch in the middle really did cause a headache. Regardless of this we played in good spirits. Unfortunately a lack of organisation and confusion we shut off and didn't play the whistle and northern used their advantage to go 1 nil up early on. Coach McCann was on the field today and had a moment of magic, controlling the ball out wide to whip a ball into the box, somehow ended up going over the keeper and in the net! 1-1. Straight away we were all go, with Eddy banging a shot to be unfortunately saved and pushed the ball away but thankfully Mitch was onto it, slotting away a 2nd! Northern snuck in a quick equaliser tho and another bang on halftime. This was a bit of a kick in the guts for us. Mustangs went into 2nd half dominating the game and was ridiculous the amount of chances we had but not finishing it off. Northern had 1 shot and they scored it! The way of the game I guess. Mustangs had 15 shots on target first half scored 2. Northern had 4/5 shots all game and scored 4. To their credit they took their chances we didn't. Like golf, you do all the work but it's the putting that earns the money! We are chipping it back into the bunker! If we sort our final 3rd mustangs would be a very different side. Learn from it and we move into next week for the Roslyn derby hungry to make a statement.

A big thanks to Greg Woolford taking the reigns giving myself timeout and enjoy the beautiful game. Cheers mate

POD Luke Kelly


COWBOYS
| Men's Division 4
Played Northern AFC Badgers at Ellis Park
WIN 5 - 1

Joseph Bahr (1 goal), Henry Mailing (1 goal and MVP), James McConchie (1 goal), Nick Cooke (2 goals), Jonty Cameron, Hamish Mulvey, Ryan McBride, Cillian Butler, Jack Healy, John-Ross Moyer, Lachie Stokes, Will Hausmann, Tom Chisnall, Ryan McBride, Mark Kliegl.

We played at home this week, at 12:20. Like last week, we were only 1-0 up at half time, but then went on to win 5-1.


RESERVES
| David Browne Contracting Ltd: Women's Division 1
Played Green Island AFC at Brockville
WIN 3 - 0

The Women's Reserves played Green Island Reserves up at Brockville this week. An early goal from Avi coming in off the left wing to meet a cross gave us a lead. A second goal from Neve saw us finish the first half 2 nill up.
The second half was similar to the first with the girls defending and attacking as a team. Charli chipped the keeper to make it 3 midway through the half. Both teams continued to have chances to score but we held out for the win and our first clean sheet of the season. Thanks to GI for a competitive game played in good spirits, and to Dennis for another well reffed match.
POD went to Ella Cone for a superb display in defence and midfield.


SHETLANDS
| Property Brokers: Women's Division 1
Played Mornington AFC at Mornington Park
WIN 0 - 6


ORIGINALS
| Hope & Sons: Masters 35+
Played Green Island AFC at Sunnyvale
WIN 1 - 4
The Originals travelled to the furthest Sunnyvale field one can play on without technically being in Fairfeild. After a late reshuffle of the able bodied players in attendance we set upon trying to take apart a determined GI side in some damp conditions. After a cagey 20 or so minutes, trying to get our heads around a field not suited to sending it long for Hayden to chase, the Green Machine pounced to take the lead with possibly their second shot of the day. This motivated the lads into upping the game and as time ran out before the break Norm scored what is becoming a very Norm style goal.
Some intelligent words from the other Foster at halftime got us stepping things up right from the start with Norm bagging his second, then after sustained pressure Damo netted his own brace to make the points safe. At the end of the day the whole team to a man play some quality football grinding out a good win and leaving management uncertain who deserved the free drink, in the end going to Originals Icon and team sponsor Maff.


DERBY!!! COLTS vs TROJANS
| Downie Stewart Lawyers / Connor Consulting: Masters 45+
Colts vs Trojans at Ellis Park
COLTS WIN 5 - 0

Colts Version
Saturday was Derby day, the Gentlemen of Roslyn Wakari's over 45's stables met down at Ellis No4 and ran around like loonies for 80 minutes, it's always great fun indeed. The 5-0 score line however contradicts how close the match was, in the fact it was only one nil at half time, the Trojans were making a good game of it and RJ's goal once again settled the boys. A lift in tempo in the 2nd half saw the score line climb with Marcus Glover getting x2, Lance Woods opening his Colt account with a beaut near post header and Con completing the tally. Many thanks to TVG for reffing the game, he did a great job in the middle and probably kept everything at a reasonably calm level.

Unfortunately the joy of winning the Derby was short lived, just after Robo finished the Player of the Day speeches we got the news that our Clubmate and friend Ernie had passed away that afternoon. The big man was a huge part of our lives and we were all influenced by the larger-than-life character that is Ernest James Westeneng. We will miss you Ernie but we will never forget.

Goals - Marcus Glover x2, one to RJ, Lance and Con.
POD - Marcus Glover

Giddy up Ernie

Trojans Version
The hard working Trojans took on the slick lads from the Colts on a wet afternoon on #4. Our plan to maintain possession didn't really materialise and we found ourselves 1 nil down at the break. The rain really set in for the second half and we chased a few shadows, defended stoutly but ended up 5 nil down at the finish. A game played in good spirits and thanks to TVG for reffing.
POD was Aaron Miller who was ever industrious in the midfield engine room.


Played Dunedin City Royals FC at Brockville
LOSS 2 - 4

The boys luckily managed to avoid the rain up at Brockville and surged to an early 2-0 lead uphill against Dunedin City, only to go into the break with scores even after a late fightback. Unfortunately DC carried their momentum over into the second half scoring an early (lucky) deflected own goal then a quick break away to go 4-2 up. Then parking the blue bus and adsorbing all that the Brumbies could throw at them. Even with the boys preferred down hill attacking and the majority of possession we were not able to add to the scoresheet. Player of the Day went to Liam Webb for his top quality organisation of the defensive players.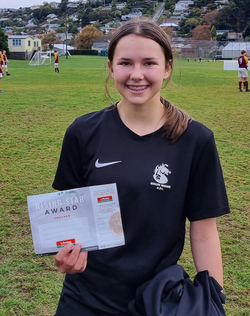 Played Northern AFC Ninjas at Ellis Park
DRAW 4 - 4
POD - Lexi Pratley.... tireless on the wing and covering the whole park!
4-4 today.... unlucky to concede a late one.

BITS & BOBS

ERNIE JAMES WESTENENG
It is with extreme sadness we convey the news of Ernie's passing to all club members and friends of the big fella. To Robyn and Ernie's family we wish to express our sincerest condolences as we think of you at this time.
Ernest was at the heart of all of Roslyn Wakari's endeavours and epitomised our clubs culture during the 80's and 90's. Ernie occupied almost every administrative post available, however it was between the posts that this extraordinary man left his most memorable mark.
The only known goalkeeper to score a goal from his own goalmouth punt on his beloved Ellis No2, probably the most celebrated goal in Roslyn history and involved players and supporters joining from the No1 ground as well.
The Man's humour and open friendliness were always on display, he was not the shyest of lads but had a quiet confidence that was warm and welcoming to all… except strikers.
We will miss you Ernie, but will never forget.
Life Member.
President.. 1992,1993,1994.
Secretary.. 1983, 1984, 1988.
Committee. 12 years.
Mason Trophy 1981, 1993.
Goalkeeper (goals for, 1)
Giddy up the West, love and peace from your Roslyn brothers and sisters.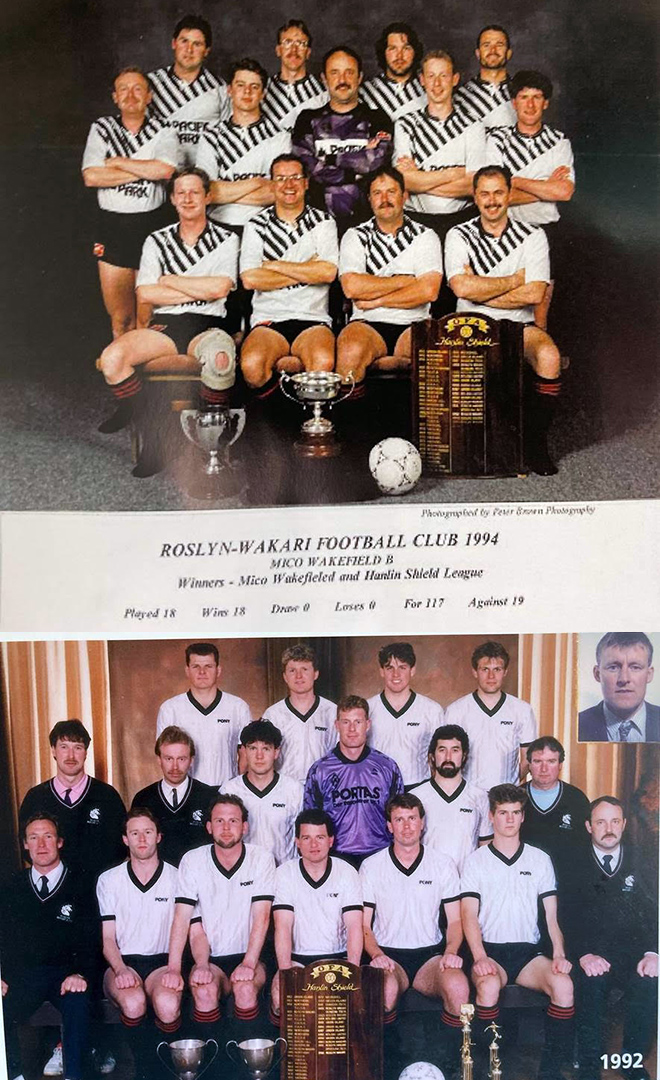 SPONORS & JUNIOR RESULTS BOARDS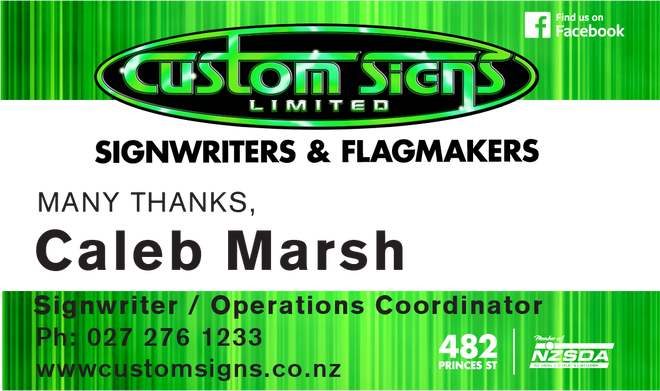 A big thank you to Caleb Marsh and the team at Custom Signs for our new sponsors board and junior results board they have kindly donated these for us this season and we are very grateful for their support.

2022 SUBS
The 31st of May is the last day to pay before your subs increase by 10%!
Senior Men and Women - $270.00
Students and Unwaged - $240.00
Youth / School - $110.00
* Social member - $40.00
Payments can be made in instalments or in full. To arrange instalments please contact club Treasurer Ian Sawyer at
rwafc.nz@gmail.com
Please pay via direct debit: 03 0883 0020178 000 referencing your name and team.
* Social Members
Just a reminder that for licensing requirements we need all of our supporters to be a social member of the club, similar to an RSA, working mans club etc. The cost of this is $40 per season so please help us out by paying this early on so as we can serve you a beverage.

SPONSOR HIGHLIGHT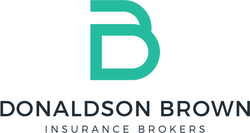 With a nationwide branch network, Donaldson Brown are New Zealand's largest provider of 100% transparent risk and insurance advice to kiwis and kiwi businesses.
Our commitment is to deliver unconflicted advice and value in a totally transparent manner to every single one of our customers.
WHAT IS UNCONFLICTED ADVICE
Unconflicted advice is a new concept to the insurance industry that centres around removing commissions and product-based incentives, instead focusing on the best value and risk-based outcome for the customer. This could mean less or no insurance depending on the balance sheet tolerance of the business.
The vast majority of commercial insurance advisors have a natural conflict of interest given they are remunerated as a percentage of the premiums from the products they sell. This is not directly linked to the value they deliver to their customer. Income earned as a percentage of premiums (commissions) is not the right way to measure value. Donaldson Brown removes all commissions from the premiums, then has a transparent fee-based conversation with the customer directly linked to the value we deliver.
Donaldson Brown, is not remunerated or incentivised by hidden fees or commissions (i.e. selling you more insurance product), instead we focus on having direct discussions around what a business should be doing to ensure that its balance sheet is appropriately protected without conflict of interest.
You deserve the right to measure the value your broker delivers. Donaldson Brown give you this ability, whilst the vast majority hide this from you.
Pierre Jones
T: 03 260 7322 | M:021 933 269 | E: pierre@dbib.co.nz | W: www.donaldsonbrown.co.nz